If Joe Biden Becomes President, He Says He Will Use His Power To Order All Americans To Wear Masks In Public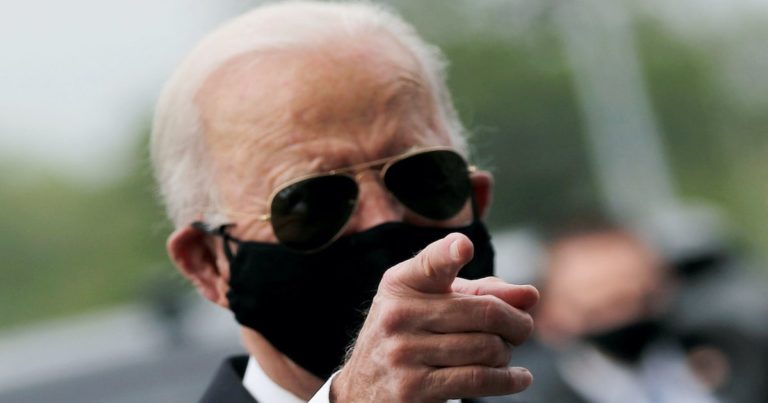 Joe Biden isn't President just yet, but he's already talking about his Oval Office plans, and many Americans are concerned.
The presumptive Democratic presidential nominee leads Trump in several recent polls, and one could argue he's gained momentum in recent months.
So, what would be one of Biden's first moves as Commander-in-Chief?
It would apparently address the ongoing health concerns surrounding the CO-VID 19 epidemic.
Biden, who has been a vocal advocate of face masks, even though he seems to struggle to wear them, believes every citizen should wear one in public. At least so long as the pandemic persists.
In fact, he says he'd make it a mandate (via Fox News):
Presumptive Democratic presidential nominee Joe Biden said Thursday that he would use federal power to require Americans to wear face masks in public — a move that would mark a significant intervention by the federal government and could see considerable pushback from states.
In speaking with CBS affiliate KDKA, Biden said that masks make a big difference.
And therefore, he "would insist that everybody in public be wearing that mask."
This would of course include businesses: if they want to reopen, all employees and customers must be wearing masks.
And when asked if Biden would use "federal leverage" to pass this rule, Biden answered:
Yes, I would from an executive standpoint, yes I would.
He added that he'd do "everything possible" to make the face mask a requirement.
This would certainly result in plenty of backlash from certain states and citizens, as many have been pushing back against mask rules for weeks now.
The Centers for Disease Control (CDC) recommends "cloth face coverings in public settings," in addition to social distancing.
However, a CDC recommendation is a far cry from a government mandate.
Biden's willingness to make it an executive order sweeping the entire nation raises more concerns, mostly from anti-big government Republicans.
How far should we allow the federal government to go? How much of a role should they be allowed to play?
These will be popular questions during the 2020 election season, that's for sure.
Key Takeaways:
Joe Biden said he'd use federal power to make all citizens wear face masks in public.
The CDC currently recommends masks, though it is not a federal requirement at this point.
Biden's position raises the "big government" question, which is bound to be an important topic this election season.
Source: Fox News