Joe Biden Slips Up Twice On Live TV – He Just Added A Zero To The COVID Casualty Count, Says It's 600,000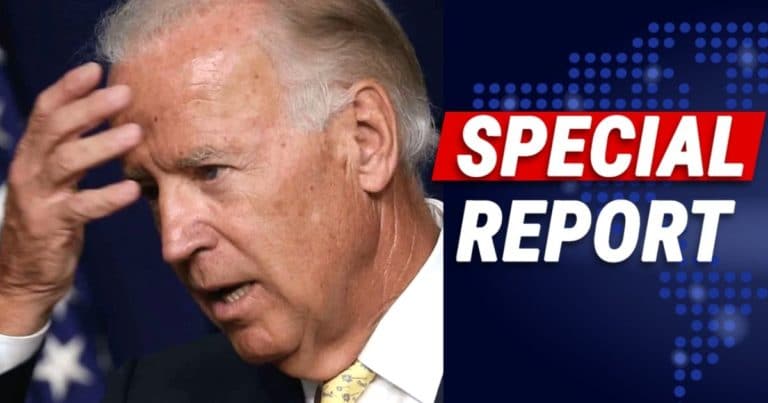 We all know Joe can't help himself make gaffes in public, but this might be one of the worst.
And we can't say for sure if it's because his mind is slipping or he was trying to really stick it to Trump.
But either way, he added a zero to the pandemic casualty count. And that's just not right.
From Twitter and Washington Examiner:
Joe Biden's coronavirus death count is only slightly off by… 540,000 people. 🥴 pic.twitter.com/PBndtNrWp6

— ForAmerica (@ForAmerica) May 1, 2020
"Over 600,000 dead, many of them are people who are those workers, those nurses, doctors, some of them, because they have put themselves in a position to save other people's lives, protect the rest of society," Biden said Thursday on MSNBC.
Oops. While on MSNBC, Joe Biden claimed that "over 600,000" Americans have died of COVID-19. The problem? He increased the actual number (at the time) by ten times.
Joe Scarborough corrected him, but only after Biden said it twice.
Was this just a slip of the tongue, or was it yet another moment Joe deliberately stated false facts?
Long before the outbreak, Joe spread talking points about Trump that weren't accurate (like when he said Trump's tax cuts didn't help working-class Americans).
Rarely did it seem that the media was willing to question him on it.
Now, he claimed the death toll of COVID-19 was ten times higher than it was. There's a big difference between 60,000 and 600,000—right?
Maybe we can reject Biden trying to blatantly lie. After all, anyone could fact check him on that statement.
(Although some liberals might have repeated it online, without checking.)
That only leaves us with an uncomfortable question. Doubtless, Biden had the numbers written out in front of him.
Most of the time, Joe is reading from a script or teleprompter during his recent appearances.
So, did he just misread what was written?
Or did he get the numbers mixed up in his head? He didn't say it just once, remember.
That should make Democrats very worried about Biden's ability to communicate… or even process basic numbers.
Remember when he couldn't remember what city or state he was in, during the primary events?
What does this tell us about Biden's mental fitness?
SHARE if you think Biden is unfit to be president.
Source: Washington Examiner