Biden's Spending Bill Tax Hikes Turn Heads Across America – Marginal State Tax Rate Could Be As High As 66%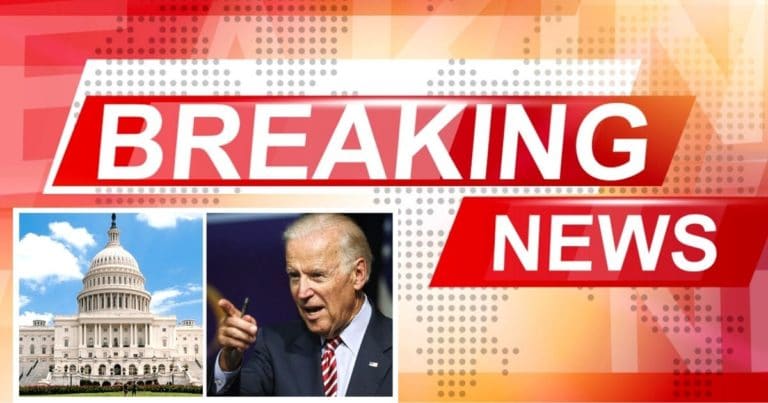 What's Happening:
Joe Biden may have gotten one spending bill passed. But most of his socialist-based spending plans are in his bloated, reconciliation package. This bill is still being debated and tossed around Congress. While some moderates have opposed it, Democrats are working overtime to make this a reality.
But the fact remains Biden does not have the money to spend a reported $1.75 trillion on new welfare programs. The only way this can work is if he raises taxes—not just on the rich—but everyone. And the news is out. If Biden gets his way, tax rates for many Americans will get sky-high.
From Americans for Tax Reform:
If the Democrats' tax-and-spend reconciliation bill is enacted, the average top tax rate on personal income would rise to 57.4 percent, according to the Tax Foundation.

This would give the U.S. the highest tax rate in the developed world, and stick all 50 states with a combined federal-state tax rate higher than 50 percent.
The Tax Foundation crunched the numbers and discovered that, should Biden get his socialist spending bill passed, Americans will see their combined federal-state tax rates go skyrocket. In all states, it will be higher than 50 percent—meaning you will be giving up more than half your salary to pay for Biden's welfare scheme.
In some states, like New York, it will be well above 60%. States with shockingly high potential tax rates include Vermont (60.2%), Oregon (62%), New Jersey (62.4%), California (64.7%), and New York (66.2%).
Here's the full state list, and folks, it's not good no matter where you live:
New York: 66.2%
California: 64.7%
New Jersey: 63.2%
Hawaii: 62.4%
Washington, DC: 62.2%
Oregon: 62%
Minnesota: 61.3%
Maryland: 60.4%
Vermont: 60.2%
Kansas: 59.6%
Delaware: 59.3%
Ohio: 59.1%
Wisconsin: 59.1%
Kentucky: 58.9%
Iowa: 58.6%
Maine: 58.6%
Connecticut: 58.4%
South Carolina 58.4%
Pennsylvania: 58.3%
Montana: 58.2%
Nebraska: 58.2%
Michigan: 58.1%
Idaho: 57.9%
Illinois: 57.9%
West Virginia: 57.9%
Missouri: 57.8%
Indiana: 57.5%
Rhode Island: 57.4%
Arkansas: 57.3%
New Mexico: 57.3%
Georgia: 57.2%
Virginia: 57.2%
North Carolina: 56.7%
Alabama: 56.4%
Massachusetts: 56.4%
Mississippi: 56.4%
New Hampshire: 56.4%
Utah: 56.4%
Oklahoma: 56.2%
Colorado: 56%
Arizona: 55.9%
Louisiana: 55%
North Dakota: 54.3%
Alaska: 51.4%
Florida: 51.4%
Nevada: 51.4%
South Dakota: 51.4%
Tennessee: 51.4%
Texas: 51.4%
Washington: 51.4%
Wyoming: 51.4%
Do you think that the rich will be paying this much in taxes? Probably not. Democrats have already put in SALT deductions for the wealthiest Americans, meaning their taxes will be much lower.
And that doesn't include other deductions Democrats put into this bill that only benefit the wealthy. Those include credits for buying expensive electric vehicles, upgrades to their homes, and sending their kids to private schools.
Democrats' rich buddies will not be paying a 66.2% tax rate. But the rest of us will. Middle- and working-class Americans can expect their taxes to be higher than 50%. Will you be able to pay your rent or mortgage on less than half your salary? Will you be able to cover your bills, put food on the table, and cloth your family, after Biden is through with your paycheck?
Not many people can say yes to any of those questions. But Democrats are all too eager to do this, without batting an eye.
Key Takeaways:
The Tax Foundation revealed taxes will be higher than 50% if Biden's spending bill goes through.
In some states, the combined state and federal tax rate will be as high as 60% or worse.
Rich Democrats will be able to avoid this rate, thanks to SALT deductions and other credits.
Source: Americans for Tax Reform