Hours After Biden Launches Student Debt Plan – Bernie Sanders Stands Up to Joe and Demands to Cancel It "All"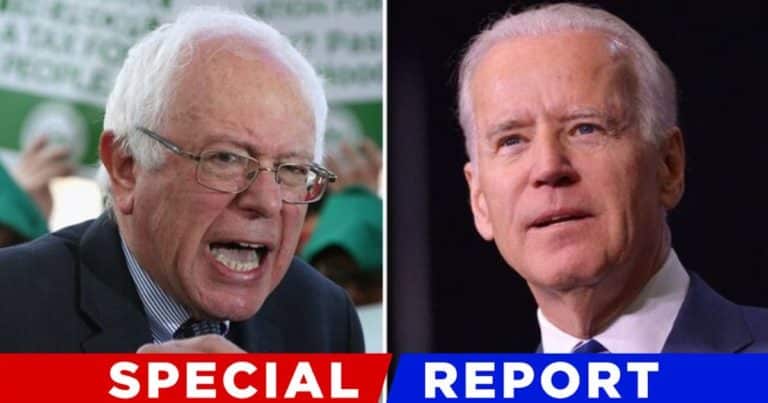 Immediately after President Joe Biden announced his plan to cancel a portion of student loan debt, the reactions began rolling in from all across the country.
Most Democrats supported the move though many Republican leaders say it will only worsen inflation, and is a slap in the face to those who have already paid off their loans.
However, one well-known socialist is doubling down on the announcement — he wants even more debt cancellation.
Bernie Sanders (I-VT) is well known for supporting various programs and initiatives that involve "redistribution of wealth," which is of course a common socialist mantra.
That's why he's on board with the idea of forgiving student loan debt, though he isn't happy with the end result. Biden's plan will forgive $20,000 for an individual who used Pell Grants and makes under $125,000/year.
This comes after an extended period of time during the pandemic when they didn't have to pay back any loans at all. That pause will end in January 2023.
In response, Sanders jumped on social media to say that $20,000 isn't nearly enough. And if the government was willing to cancel billions in PPP loans, they can cancel out all student loan debt:
The average amount of debt forgiveness to businesses receiving PPP loans: $95,700. If we could afford to cancel hundreds of billions in PPP loans to business owners in their time of need, please do not tell me we can't afford to cancel all student debt for 45 million Americans.

— Bernie Sanders (@SenSanders) August 23, 2022
Reportedly, erasing all student loan debt isn't something the Biden administration considered, though many Democrats were pushing for the President to forgive up to $50,000 in debt.
Other leftist leaders said it was a win for "social justice" and "racial equality," citing the difference between student debt for black and white students.
As Rep. Cori Bush posted:
Systemic racism and equity in our education system leads to Black borrowers owing 50% more upon graduation than their white peers.

Making Black borrowers more likely to accumulate more interest and default on their payments.

— Congresswoman Cori Bush (@RepCori) August 23, 2022
Most critics say this has nothing whatsoever to do with race, and that black students are in no way more restricted from paying loans back.
However, it falls in line with the Democrat narrative, which appears to involve painting everything with the brush of racism and finding "discrimination" in every corner of the country.
In response, Donald Trump Jr. wrote:
You know who it really discriminated against?

1) Those that saved their money, skipped cool toys/trips and already paid their debts

2) Those that went to work rather than getting a $300K gender studies degree.

Now you're asking them to pay for those who did the opposite. https://t.co/r4EdzpQaa3

— Donald Trump Jr. (@DonaldJTrumpJr) August 24, 2022
To many citizens, it's a clash between those who don't believe in handouts to fix economic problems, and those who don't seem to have any other solution.
Naysayers say the President's plan might not just worsen inflation, but also sets a dangerous precedent: if they can forgive portions of student debt, what's stopping them from trying to forgive credit card debt? Or mortgages?
This plan could wind up being a driving force behind voters going to the polls in the midterm elections, too.
Key Takeaways:
Sen. Bernie Sanders demanded that Biden cancel all student loan debt.
Sanders says that if the government can forgive billions in PPP loans, they can forgive more billions.
Donald Trump Jr. called it discrimination against those who have already paid their debt, and those who went to work without going to college.
Source: Breitbart