Biden Stumbles Badly On The World Stage – Joe Can't Seem To Remember The Name Of "That Fella Down Under, " The Australian PM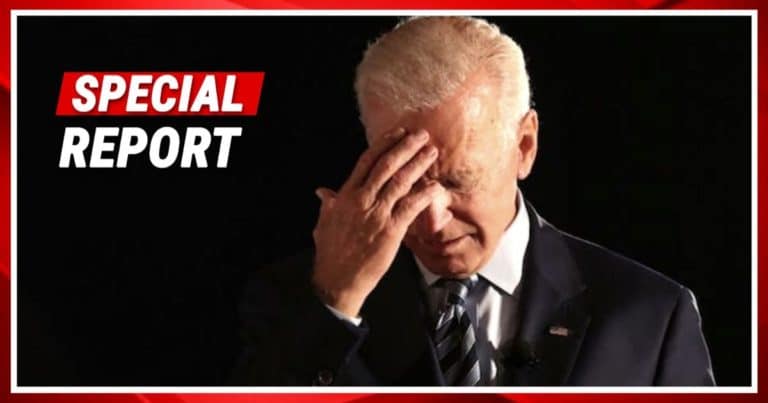 Throughout 2021, President Joe Biden has faced several serious issues. Rising inflation, the ongoing pandemic, Afghanistan, and the border crisis have all piled onto the embattled administration.
To top it all off, Biden hasn't really helped his cause. He continues to make apparent mistakes in the public eye, leading to more calls for cognitive testing and even resignation.
And the President's latest slip happened on the world stage, which isn't going over well with America.
Biden attended a press conference that sealed the deal on a three-nation pact: AUKUS.
The pact, which includes Australia, the U.K., and the U.S., will assist Australia in the building of nuclear submarines. The country has plenty of uranium deposits, though nuclear power remains highly controversial.
In speaking at the event, Biden appeared to completely forget the name of one of his fellow leaders.
Biden was speaking with Australia Prime Minister Scott Morrison, as well as U.K. Prime Minister Boris Johnson. And for some reason, it appeared Biden suddenly lost the thread.
That's when he looked away from his notes and instead of using Morrison's name, addressed him as "that fella down under."
It wasn't long before Australian news outlets seized on the apparent slip:
US President Joe Biden appeared to forget PM Scott Morrison's name during this morning's historic announcement of the #AUKUS defence pact.

Biden said "I wanna thank that fella down under" after thanking UK Prime Minister Boris Johnson.

Full story: https://t.co/PZDzcslVMO pic.twitter.com/Bh3iLgNDyJ

— Nine.com.au (@Ninecomau) September 16, 2021
US President Joe Biden has addressed Scott Morrison as "pal" and "that fellow down under" after appearing to forget the name of Australia's national leader in a joint defence address.https://t.co/3Uip8z9I8F

— Sky News Australia (@SkyNewsAust) September 15, 2021
It wasn't only news organizations that called out Biden, either.
Many users found the exchange cringe-worthy, and lambasted the President for embarrassing the United States.
This is the sort of thing that continues to haunt the Biden administration, and some would argue that it's starting to happen more often. When Biden abandons his notes, it can lead to serious fumbles.
This may be the first time in history that the United States has headed into a major geopolitical conflict with a president who can't remember the name of his axis powers.#THATFELLOWDOWNUNDER #Biden #AUKUS

— Alexandra Marshall (@ellymelly) September 16, 2021
🧠 It's moments like these 💡 #THATFELLOWDOWNUNDER pic.twitter.com/WlXtdeP7ck

— Matt Sanderson (@MattSanderson__) September 16, 2021
It wasn't long before the hashtag #THATFELLOWDOWNUNDER began to trend on Twitter.
President Biden continues to fend off any accusations concerning his mental health, but situations like these keep cropping up. And so long as the mistakes keep happening, the questions will linger.
Many Republican leaders and politicos in Washington also believe Biden is making the U.S. look weak and vulnerable.
The world sees our Commander-in-Chief and doesn't ignore the slips our own media seems desperate to ignore.
But if there is something wrong, they might not be able to hide it for much longer.
Key Takeaways:
President Joe Biden appeared to forget the name of Australian Prime Minister Scott Morrison during a press event.
He referred to Morrison as "that fellow from down under."
Australian news outlets and individuals on social media quickly seized on the slip, with many saying it's more evidence of Biden's cognitive decline.
Source: Breitbart