Biden Suffers Double Christmas Meltdown – Joe Loses It Over Age Questions and Children Ignore Him Wandering Aimlessly with Toy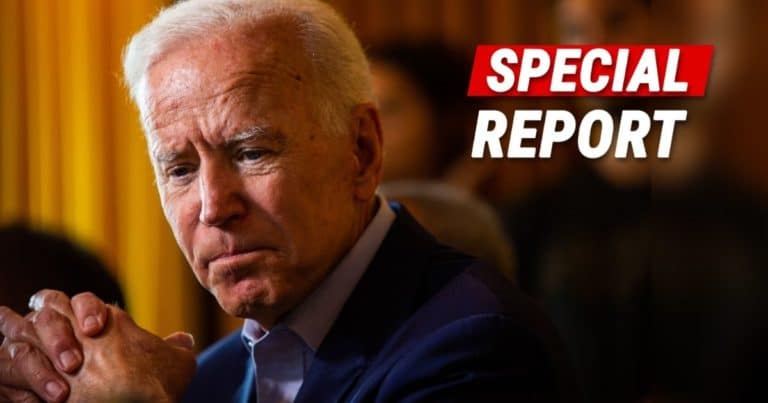 What's Happening:
We warned America in 2020. Joe Biden is unfit for office. Yet the media ignored our concerns and helped get this tottering old man into the White House. With each passing day, we see just how bad things are getting for this 80-year-old "president."
Nobody knows for sure what is wrong with him. Because Democrats refuse to release his medical tests. But it's clear Biden is losing it worse than before. He even snapped at a reporter over his age.
From Fox News:
"The president has vented to allies about how often his age is mentioned in the press — 'You think I don't know how f—ing old I am?' he said to one earlier this year. But who knows what the fates have in store for someone who just turned 80 a few weeks ago (Sorry, Mr. President!)," Politico's Jonathan Martin wrote.
Apparently, Biden snapped at a reporter, cursing him out over his age. Yeah, that's something a reasonable, healthy person does! Biden's short temper–a sign of failing mental health–has become increasingly worrisome in recent months.
It seems he can't go very long without losing his cool. But things took a very odd tone, during a recent event.
Is he invisible? No one is even looking at him. Wow.pic.twitter.com/DWVKXFw67S

— Cari Kelemen 2.0 (@CariKelemen) December 13, 2022
Yikes. Video show Biden walking around with a toy during a Christmas event. Swarms of kids walked around, receiving toys for the holiday. Yet not a single person acknowledged Joe Biden, the supposed President of the United States.
Biden's behavior was even worse. He shuffled around like a confused mental patient, holding out his toy. It's like when a parent forces a scared child on stage during a musical. He has no idea what he is doing, he's just doing as he's told.
Biden clearly had no clue what he was supposed to do. He even seemed unwilling or unable to approach a child and start up a conversation. And none of those children wanted to be stopped by old Joe.
Perhaps Joe's handlers told the kids not to acknowledge him. We don't need another one of those incidents!
Regardless of what happened, it's pretty clear Biden's out of it.
Key Takeaways:
Signs of Biden's mental collapse continue to pile up.
Reports came out revealing he snapped at a reporter saying, "You think I don't know how f—ing old I am?"
A video emerged of him wandering around confused during a Christmas event, ignored by the children.