Minutes After Biden Arrives at Texas Border – Governor Abbott Slips a Scathing Note into the President's Hand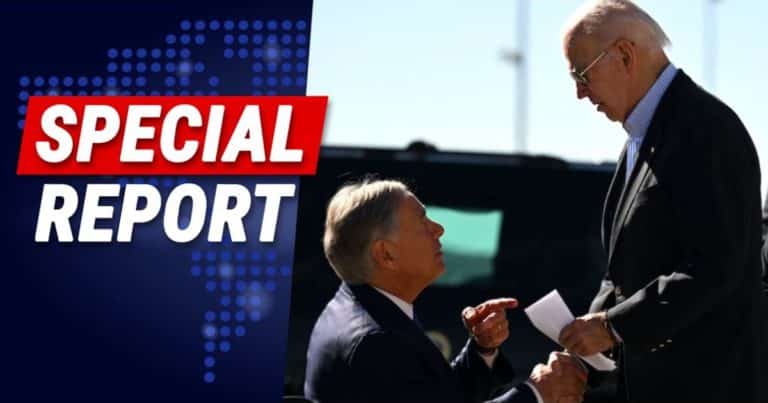 President Joe Biden finally visited the southern border over the weekend, but critics are saying it was more of a "photo-op" than a serious visit.
Reports say the El Paso area was cleaned up before Biden arrived and people say POTUS never saw the most affected areas. On top of that, Biden didn't appear to offer any concrete plan to deal with the border crisis.
But Texas Gov. Greg Abbott didn't miss the opportunity — he gave Biden a list of demands the instant he stepped off Air Force One.
Abbott and other southern state leaders have begged the federal government for border assistance for years. But they all say that little or no help has been given.
Additionally, they accuse Democrats of simply ignoring the entire crisis and worse, claiming it doesn't really exist (or is over-exaggerated). This, despite historic, record-high DHS numbers in 2022.
Texas has declared the border flood an "invasion" and has taken strides to protect their state from the endless tide of illegal migrants.
So, when Biden showed up at the border, Gov. Abbott slipped him a letter, which contained the following (via The Daily Wire):
Your visit to our southern border with Mexico today is $20 billion too little and two years too late.

Moreover, your visit avoids the sites where mass illegal immigration occurs and sidesteps the thousands of angry Texas property owners whose lives have been destroyed by your border policies.
Abbott added that the city Biden visits "has been sanitized of the migrant camps which had overrun downtown El Paso" because D.C wants to shield the President from the reality of the situation.
The Texas leader also said the border was far more secure under the Trump administration, and Biden's open-border policies "have emboldened the cartels."
Then there was a list of demands that is rapidly making the rounds; here are a few of the most critical points:
You must stop sandbagging the implementation of the Remain-in-Mexico policy and Title 42 expulsions, and fully enforce those measures as the federal courts have ordered you to do.
You must aggressively prosecute illegal entry between ports of entry, and allow ICE to remove illegal immigrants in accordance with existing federal laws.
You must immediately resume construction of the border wall in the State of Texas, using the billions of dollars Congress has appropriated for that purpose.
The letter also asked Biden to label the Mexican drug cartels as foreign terrorist organizations, which is something Republicans have been pushing toward for years.
The dangers seem very real and Texas continuously cites the humanitarian impact of Democrats looking the other way. If they really wanted to help these migrants, they wouldn't be ignoring the crisis.
Evidence that ICE can no longer enforce existing law is especially disturbing, as are reports that they've lost track of hundreds of thousands of illegals.
Many say Biden's little photo-op down in Texas isn't going to result in anything — the administration still wants open borders, and still refuses to implement existing immigration and citizenship law.
Key Takeaways:
Gov. Greg Abbott handed President Joe Biden a note the instant he arrived in Texas.
The letter ripped Biden for his open-border policies, and included several demands.
These demands include allowing ICE to enforce existing federal law, resume construction of the border wall, and all Title 42 expulsions to continue.
Source: The Daily Wire