Days After Trump Goes After Biden – New 2020 Poll Shows Floor Could Be Dropping Out Under Joe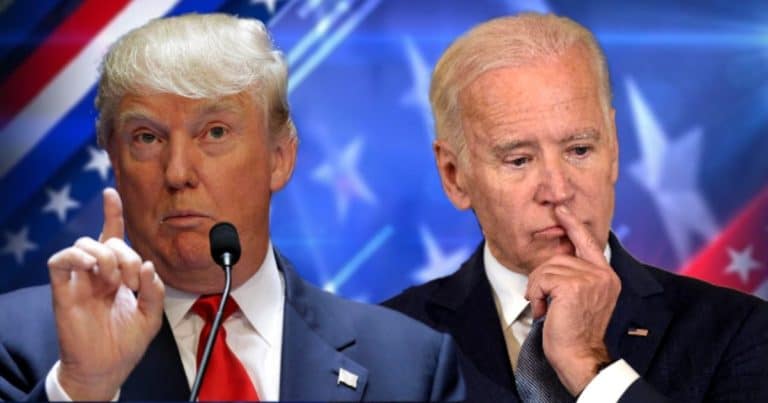 What's Happening:
In recent days, Donald Trump's campaign has ratcheted up its attacks against Joe Biden and the Democrats.
Numerous videos have circulated of how local Democrats are allowing dangerous activists run loose in their cities. Team Trump has also released several videos that highlight Joe Biden's questionable mental ability.
President Trump himself has accused Biden of being brainwashed by the radical left. He has warned Americans that if Biden gets into office, he will just do whatever the far-left tells him.
Now, after numerous mainstream polls claimed Biden was leading by a large margin, a new poll is showing a big shift:
Joe Biden leads President Donald Trump by 7 percentage points in the latest Zogby poll, a six-point drop since late May.

Trump picked up points among voters over the age of 65 and shrunk the gap among both men and women, though Biden still leads in those categories.
The media is rolling out early polls long before the national conventions, debates, or general election campaign.
It's possible that liberal-leaning outlets are trying to muster support for Joe Biden themselves, with polls designed to convince voters to back him (whether or not the polls are accurate).
Some have claimed the COVID pandemic and BLM protests have hurt the president. But the states that suffered the most are heavy blue regions. Polls released in May claim Biden has a double-digit lead over an incumbent president with an enthusiastic base.
Much has yet to be decided this early in the general election season. Some still wonder if Joe Biden will appear at the three scheduled debates or drop out at the last minute.
He continues to stay indoors, refusing to host large events or rallies. His appearances have been relatively short, with his comments mostly prewritten.
With elections heavily impacted by motivated voters and volunteers—recruiting at large rallies—Biden might be rapidly losing ground by refusing to host events.
This latest poll might indicate a massive change in national support. Even according to liberal outlets, Trump might build a lead that Biden could never counter.
Key Takeaways:
After numerous polls giving Biden a large lead, a new one reveals his lead is slipping.
Team Trump has put pressure on the left with numerous videos exposing their failures.
With a large war chest and enthusiastic support, Trump might close any gap that exists between himself and Biden.
Source: Newsmax