After Biden Blames Trump For Border Problems – Guatemalan President Says The President Is To Blame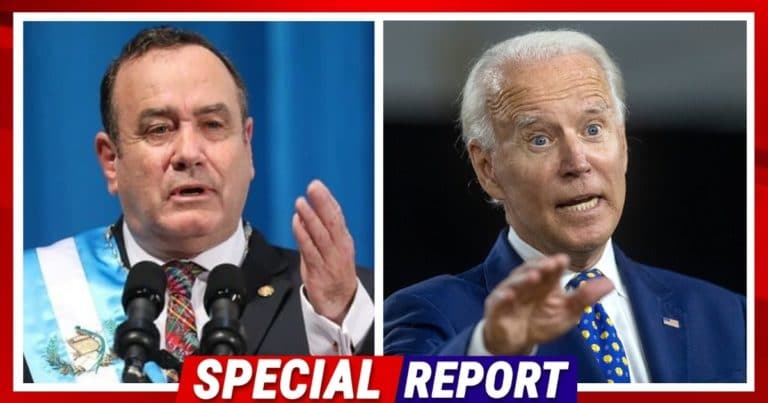 What's Happening:
We all know our border is at a crisis level. Hundreds of thousands have crossed it.
Some experts say it will be over a million by the end of the year.
But idiot Joe Biden claims all this trouble is Trump's fault. You know, the man who actually got the border under control?
We're not sure if anyone in America is buying this lie—outside of CNN. But one man is calling out Biden's b-s.
And he happens to be the President of Guatemala.
From YouTube:
Guatemalan President Alejandro Giammattei said that President Joe Biden's "message" was contributing to the 21-year high in border crossings, during an interview with CBS News senior White House and political correspondent Ed O'Keefe on 6/6/2021.
President Alejandro Giammattei says the surge in border crossings is, at least in part, the result of the message Joe Biden has spread around the world.
What message could that be? That the U.S. border is a revolving door for anyone to enter, regardless of our laws.
Biden's first act was to eliminate Trump's many border protections. That let everyone around the world know that it was open season on the border.
Cartels, smugglers, coyotes, or anyone who could cross the border against the law—they all knew that if they crossed the border, Biden would be much more lenient.
That was the "message" President Alejandro Giammattei was talking about. Nothing he or other leaders can do will stop thousands from rushing our border.
Right now, Kamala Harris is in foreign countries trying to "solve" this crisis. Um, the crisis is back here, honey. All you need to do is restore those border rules and BOOM, crisis gone.
But Biden and Harris don't seem to have any intention of doing that.
Who is at fault for the border surge—Trump or Biden?
Key Takeaways:
President Alejandro Giammattei of Guatemala accused Biden of contributing to the border crisis.
He said Biden's message is urging people to rush the border.
Biden's removal of Trump-era rules is encouraging people to enter illegally.
Source: YouTube