Biden Just Invited The United Nations To Investigate America – The President Wants Them To Look Into 'Racism, Xenophobia'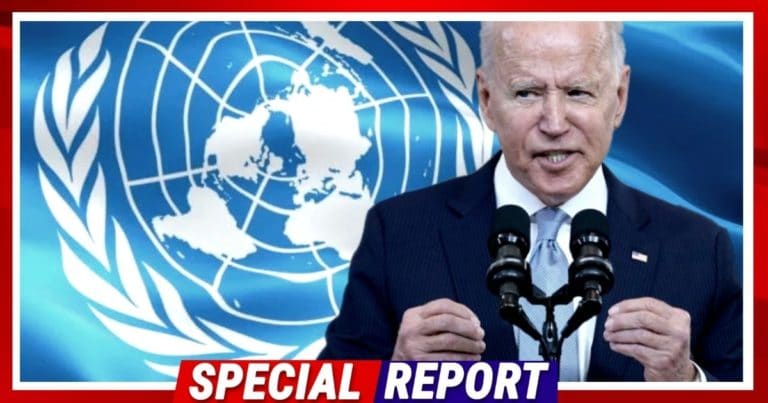 What's Happening:
These days, Democrats are determined to convince Americans of just how terrible they are.
Joe Biden, perhaps hoping to distract from his failures, is propping up paper tigers as threats to our country.
In fact, he is so driven to convince us about these problems, he's enlisting the help of the deeply corrupt United Nations.
What is this body, known for ignoring human rights violations, going to do? Root out racism and xenophobia, of course.
From the U.S. Department of State:
… the United States intends to issue a formal, standing invitation to all UN experts who report and advise on thematic human rights issues. As a first step, we have reached out to offer an official visit by the UN Special Rapporteur on contemporary forms of racism and the UN Special Rapporteur on minority issues. I also welcome the UN Human Rights Council's adoption today in Geneva of a resolution to address systemic racism against Africans and people of African descent in the context of law enforcement.
In order to push their far-left agenda, the Biden administration is asking the UN to investigate racism and xenophobia in America.
Finally! The United Nations, a body that cannot even govern itself, is going to fix all our problems.
Biden and the left continue to claim that America is a deeply divided country.
They seem to forget that we had a black president, not to mention black and minority leaders in almost every sector of society.
Despite the obvious fact that the vast majority of Americans aren't racist, Biden wants the UN to infiltrate our country to root out this phantom menace.
Why is Biden so determined to defeat a threat that isn't really here?
There are a couple of reasons Democrats keep banging this drum. For one thing, it's the only thing they have as leverage over black Americans.
Democrats continue to push the tired claim that Republicans are only old, white men who hate brown people. They ignore the growing number of black and minority Americans that are rejecting the left and joining the GOP.
But Democrats seem to want these terrible things to continue to exist, at least in the minds of voters, so they can forever use this boogeyman to manipulate voters.
So, don't expect the UN to do anything to help. If anything, they will produce a report that makes everyone and everything in this country look like it's the worst.
I doubt a group that gives North Korea and Iran positions of influence within it to be able to conduct even a basic investigation.
The United Nations probably needs to start with an investigation on themselves.
Do you think the United Nations should be investigating America at all?
Key Takeaways:
Biden is asking the UN to root out racism and xenophobia in the United States.
The State Department claimed "racism, racial discrimination, and xenophobia" is a major problem in America.
The UN is known for supporting corrupt regimes and ignoring human rights violations all over the globe.
Source: The U.S. Department of State