After Biden Denies Veterans D.C. Permit – 'Rolling To Remember' Expects Turnout Of 100,000 Bikes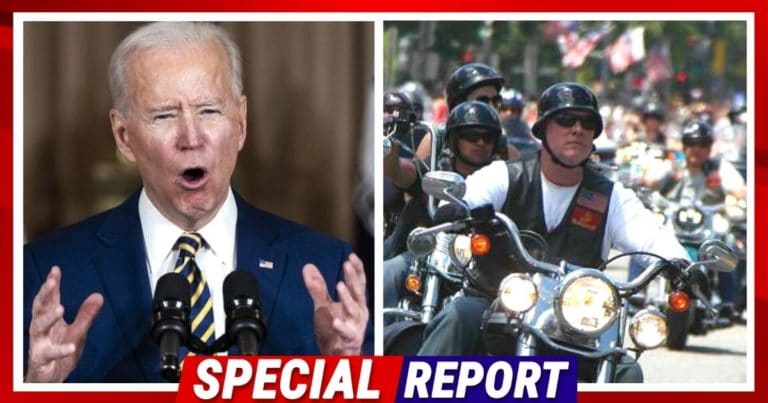 What's Happening:
While President Trump was in office, you could count on our veterans being honored and respected.
Trump often would go out of his way to thank our servicemen and women. And they responded with overwhelming appreciation.
That included groups of bikers, who represent veterans from many wars.
But this year, the Pentagon denied a permit for one famous event held every Memorial Day.
News spread about what Biden's administration did. And this is how Americans responded.
From Breitbart:
The annual Rolling to Remember event is set to be held this weekend in the Nation's Capital and turnout is expected to be even greater after the group was denied a permit for a staging area from the Pentagon under President Joe Biden's leadership…

"We've built out a very robust plan, great infrastructure, so Sunday morning we will be staging at RFK stadium," Chenelly said, noting that the event is now "expecting 100,000 bikes."
Watch them rolling in:
Making their way to the Mall. 🏍 pic.twitter.com/ENgANavnzN

— Rolling To Remember (@RollToRemember) May 30, 2021
The event, originally called Rolling Thunder, often saw tens of thousands of bikers remember our nation's veterans.
It was a special time that proved these bikers were as patriotic as any other American.
And it was an event many people looked forward to, as they rolled through other parts of the country as well.
But, blaming health concerns, Biden's Pentagon denied these Americans a permit to hold the event.
It seems, though, that the event will be going on without the Pentagon's support. The mayor, Muriel Bowers, granted them a permit at the RFK Memorial Stadium.
News that the Pentagon was denying these bikers and veterans the right to hold the event spread like wildfire.
It seems that this has sparked outrage and interest by many people. Now, the event organizers expected over 100,000 to attend.
Imagine the sight of hundreds of thousands of bikers descended onto D.C., celebrating our freedom and the heroes who defend it.
It'll have those commies in Washington shaking in their boots!
Key Takeaways:
The Pentagon denied a Memorial Day event a staging permit.
The news generated greater interest, and the organizers are expecting 100,000s.
They were able to acquire a permit from the city, at RFK stadium.
Source: Breitbart