Joe Biden Gets Lost On Live Video – Even With A Teleprompter, Joe Just Forgot His Own Plan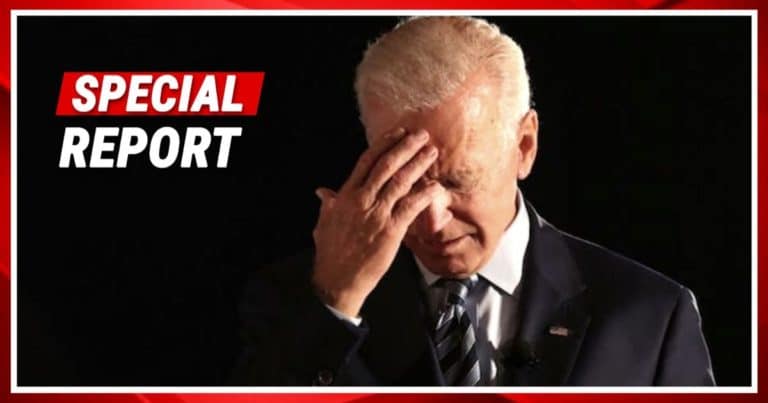 What's Happening:
It has been repeatedly pointed out that Joe Biden is struggling in recent appearances. Even with prewritten scripts and teleprompters, the man frequently seems lost and confused.
A long history of minor gaffes and flubs have given way to troubling moments of lethargy and incoherent comments.
The man looks tired and often annoyed to be even talking. And with each passing day, the troubling behavior keeps adding up.
In a recent video, he appears to be reading off a teleprompter. But even then, Joe just forgot his own plan:
Our Take:
In the video, Joe Biden is sitting in the comfort of his own home, reading from his own policy proposal. The words were either written by him or his campaign staff. But even in that serene environment, the man can't keep track of what he's saying. How will he perform during a debate or big rally?
You'd think a man eager to run the country would be able to remember his own ideas. Yet in just a few short seconds, he has to repeat himself. It appears he lost his place and struggled to regain it.
Even Democrats have to admit that the man's mental capacities are slipping.
But in a clip where he appears coherent, his plans are troubling, at best. Taking cues, not from established economists, but the hard left, he promises to "rewrite our economy":
His statements have more in common with far-left Democrat Ilhan Omar, who recently promised to dismantle our economy and political system and replace it with some form of socialism.
Joe Biden was put forward by Democrats because he was supposed to be the "moderate" choice to compete with Trump.
But with each passing day, he appears to be bowing to the radical left of his own party. The same left that refuses to denounce riots and wants to defund police departments.
Is this what Joe Biden really wants or is has his mind slipped so much, they're just telling him what to say?
Key Takeaways:
Joe Biden struggled in a recent clip to read from his own teleprompter, reaffirming fears of his mental decline.
Biden has shown signs of mental decline in recent months, including confusion and slurred speech.
Biden also promised to "rewrite our economy" echoing radical statements from far-left Democrats.