Biden's Own Aides Use A Wall To Stop Joe – Report Claims The President Is Shielded From Improvised Meetings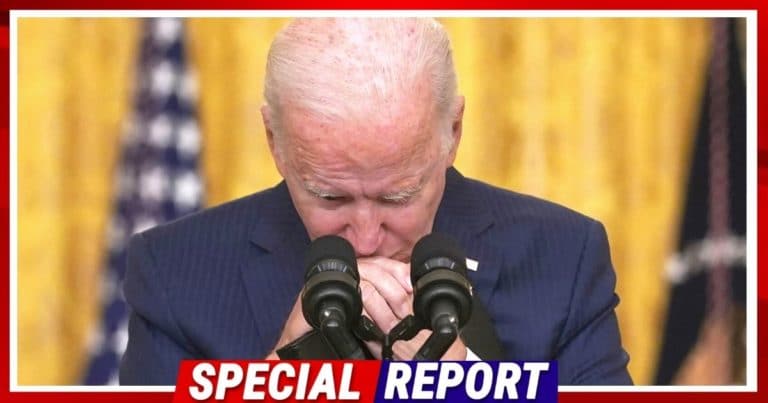 What's Happening:
The President of the United States is supposed to be in charge, right? Yet why does it seem he is being told what to do? How many times has he said he's "not supposed" to take questions? He even once claimed he'd "get into trouble."
Um… with who, Joe?
Many have wondered who is calling the shots at the White House. Biden's frequent gaffes and growing signs of mental decline have worried millions. And now, a new book reveals that Biden's "aides," not the man himself, is setting the agenda.
All to protect the administration's shattered reputation. From Fox News:
Top White House aides set up a "wall" to shield President Biden from unscripted events and long interviews amid fears of the president's testiness and habit of mangling statements, according to a new book…

In turn, a number of Biden aides told the reporters that Chief of Staff Ronald Klain and then-White House advisor Anita Dunn worked to prevent such incidents by keeping him away from "unscripted events or long interviews."
This is unbelievable. Biden is so inept, so out of control of his own administration, his staff "shields" him from events they cannot script. This is basically admitting what we've all suspected for months, that his "handlers" are really in control of the White House.
His aides know Biden is losing his mind. He cannot be trusted not to say something damaging before the press or anyone else. So, they closely control what he does to avoid embarrassment. This suggests Biden's way more off the reservation than we thought.
How can we trust he's even making decisions? If his staff are "cocooning" him from unscripted events, it means he's only showing up for events that are script by this staff. That doesn't sound like a president who's really in charge.
Does he even set his agenda? Is he in charge of the executive orders he signs? Does he even know what is going on in the country?
We can't be certain of any of that, now that this revelation is out. How is the administration going to explain why they are walling off the president from the public? And what else are they deciding for him, if they control events so tightly?
Does anyone want to "circle back" to using the 25th Amendment?
Key Takeaways:
A new book reveals Biden's staff shield him from unscripted events.
They decide who he speaks to and what events to appear at.
This confirms many Americans' suspicions about who is running the White House.
Source: Fox News