Biden's Wife Exposes Joe's Achilles Heel – It Turns Out Nobody Actually Wants To Vote For Joe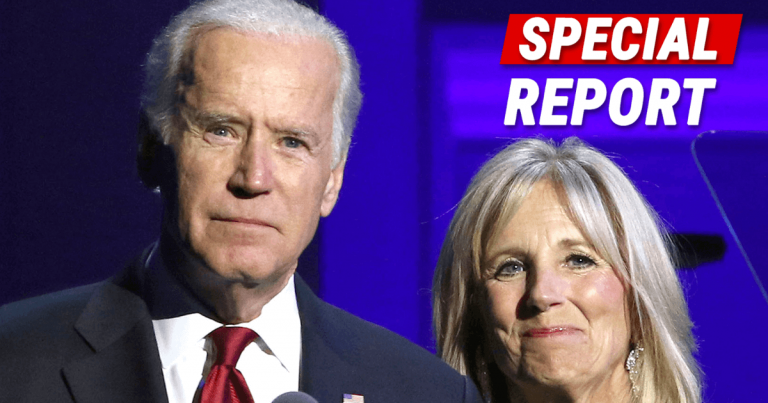 Joe doesn't look happy – his wife wasn't supposed to let it slip out!
With each passing day, it seems like Joe Biden's chances for 2020 get bleaker.
Each gaffe, each blunder, confuses and enrages Democrats. Sometimes, it seems like the man doesn't even want to run for president.
Even a week-long break hasn't helped him when he gets behind a microphone. So, he is resorting to his dear wife Jill to help mend the fences.
And it turns out, she's just about the worst cheerleader a guy could ask for.
From Breitbart:
Biden said, "[Y]our candidate might be better on, I don't know, health care than Joe is, but you've got to look at who's going to win this election. And maybe you have to swallow a little bit and say, 'Okay, I sorta personally like so and so better,' but your bottom line has to be that we have to beat Trump."
Uh… what? Lol did Jill Biden just say what we think she said? She basically admitted that most people don't want to vote for Biden.
She even said that many Democrats might prefer another candidate's views on healthcare and other issues.
But they have to vote for Joe—even swallow a little bit—because she claims he's the only one that can beat Trump.
Lol, putting aside the fact that none of them can beat Trump—let's dissect this.
Jill Biden claims that only Joe has a chance at winning a General Election against Trump. Really?
Is she admitting that most of the candidates—and the entire party—is lurching left?
Is she saying that Democrats' embracing of socialism is dooming their future?
Or is she saying that as an older white man, Biden is better off in the White House? Ooo, I'm sure the liberals don't like that at all!
I mean, of all the things she could have said in support of her husband, this might be the worst.
You'd think a wife would give a glowing report on how smart, effective, and driven her husband is.
How you'd be crazy to support any other Democrat than Joe.
Nope, she said essentially, "Yeah, you probably like another guy. But just suck it up and vote for Joe."
Not a winning strategy.
SHARE if you think Biden doesn't stand a chance against Trump!
Source: Breitbart