After Biden's Classified Documents Discovered – Donald Trump Sends a Blistering Demand to Washington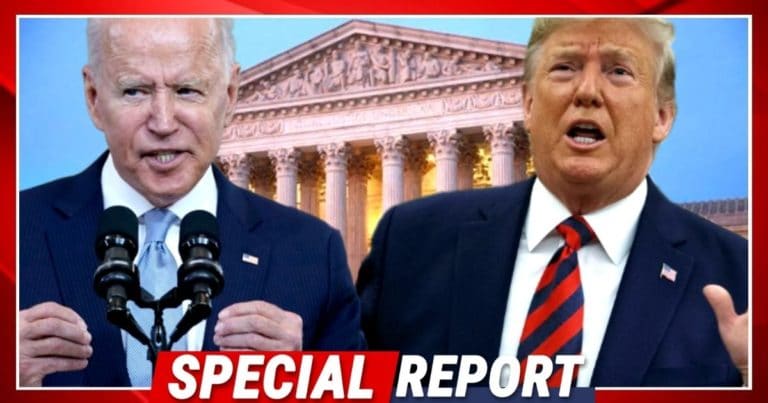 Last year, the political world was stunned when the FBI raided former President Donald Trump's Mar-a-Lago estate. Authorities reportedly found classified documents Trump wasn't allowed to have.
Trump has maintained his innocence ever since, and many of his supporters say the raid was politically motivated.
Now, a similar situation has landed on the White House's doorstep — and this one involves the current President.
This week, we learned that a "small number of documents with classified markings" were turned up at the Penn Biden Center on November 2. Biden's own lawyers discovered the documents.
The news kicked off a flurry of reactions, many of which immediately compared the discovery to Trump's holding of classified docs at Mar-a-Lago.
The former POTUS himself was quick to respond, writing on Truth Social:
When is the FBI going to raid the many homes of Joe Biden, perhaps even the White House?

These documents were definitely not declassified.
MAGA Inc. CEO Taylor Budowich demanded that the Justice Department "appoint a special counsel to investigate."
However, critics claim these replies are unfounded and exaggerated, as the situation isn't the same: the documents weren't found at Biden's personal residence, and they weren't the same in terms of sensitivity.
Even so, Biden ripped Trump during a "60 Minutes" interview last December, wondering how "anyone could be that irresponsible."
Now that we find classified material in Penn Biden Center, people are saying Biden's words might come across as hypocritical. So far, nobody from the White House has commented on the matter.
The rules are set in place by the Presidential Records Act, and say that any administration and staff must turn over all documents to the National Archives.
One could argue that didn't happen with these classified documents of Biden's, though there remain differences between this situation and the Trump/Mar-a-Lago fiasco.
Either way, it's possible that this could force the President to answer some difficult questions, and many will wonder if more action should be taken — though we probably won't see FBI raids.
Key Takeaways:
Former President Donald Trump has responded to the finding of classified materials at the Penn Biden Center.
Trump asked on Truth Social when the FBI is going to start raiding Biden's homes.
Critics claim the two situations are very different, but Biden might be caught in a difficult spot.
Source: Fox News