Biden's Radical Agenda Blows Up in His Face – Look What Some Americans Have to Pay for Now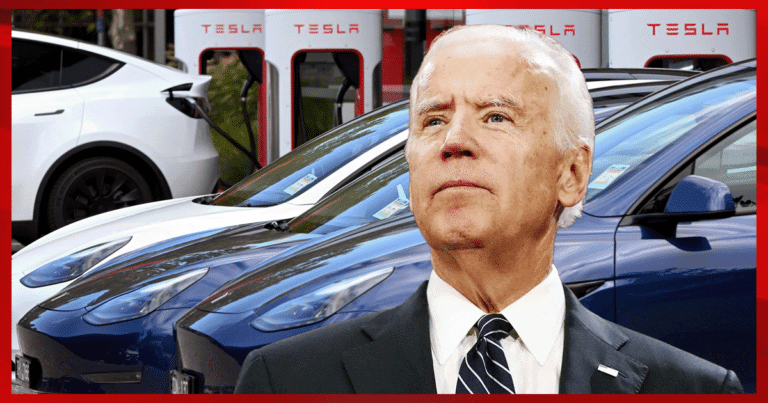 What's Happening:
Joe Biden's radical energy agenda has made driving a car much harder. He shut down drilling on federal land, causing gas prices to skyrocket. His "solution" is to push electric vehicles, which cost nearly double a normal car. Joe tried to sell this to Americans by claiming, in the long term, EVs are more affordable.
Sure, if you can cover the up-front cost, installation of charging equipment, and pricey insurance.
But there are other costs Biden wasn't even expecting. States, especially blue states, rack in the dough thanks to heavy taxes on gas purchases. But, foreseeing a time when few Americans drive gas cars, these states are already cooking up ways to hit drivers hard. And this one will really hurt.
From The Post Millennial:
Owning a vehicle could come at a hefty cost for Americans as states consider charging motorists taxes by the mile rather than by gallons of purchased gas in order to keep revenue coming in…

States are now experimenting with how to make up for the lessened cash intake and are weighing options to start charging motorists by the mile. The Biden administration is set to launch a similar pilot program which will be funded through the $125 million federal infrastructure package that President Biden signed in 2021.
Do you believe this? Biden promised EVs would be cheaper because you wouldn't be pumping gas. But all along, he and his cronies in blue states were planning to rip you off for every mile you drive.
How are they going to do that? Either by adding new toll roads or, more likely, monitoring your driving habits using surveillance equipment. That's right, Big Brother isn't just about controlling what you can say online. He's also going to watch where you go–to nickel and dime you for every mile you drive.
(Of course, it will cost you much more than nickels and dimes.)
This is going to hurt every American who has to drive to get to work. And this could even kill the gig economy, where millions of Americans earn a living by actually driving. Uber drivers, delivery persons, and anyone that has to drive many miles a day are going to get wrecked by this new scheme.
In some states, they are already rolling out this plan. Others are also adding fees to package deliveries, so you folks who work from home get to get in on the tax-paying fun!
This is American when Democrats are in charge. A miserable hellscape where they charge you for anything and everything. And they violate your rights to do it.
Key Takeaways:
States are considering charging drivers by the mile, to make up for declining gas sales.
This comes as Joe Biden pushes EVs, claiming they cost less than gas cars.
The Biden administration is also rolling out a plan to hit drivers for how much they drive.
Source: The Post Millennial