Biden's Pentagon Finally Breaks Down – After Years of Fighting It, The Military Finally Drops the Mandate for Troops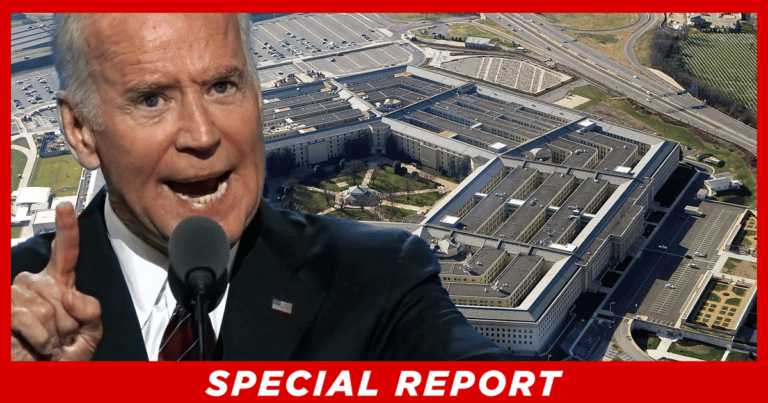 What's Happening:
What will President Joe Biden's legacy be? From what we've seen, it will be his war against the average American. Biden has put tremendous pain on most Americans, thanks to both his deliberate moves and his shocking incompetence.
We all remember how he threatened 100 million American jobs with his infamous mandates. Thankfully, most of those executive orders were overturned in court. But one continued to linger, putting our bravest at risk. Thousands of servicemen risked their health or their livelihoods, over a mandate that wasn't overturned in the courts. It took a bipartisan effort in Congress to end it.
And now, finally, this dark chapter in our history comes to a close.
From The Post Millennial:
On Tuesday, the Pentagon dropped its vaccine mandate for military service members following legislation signed into law in December giving the Pentagon 30 days to rescind the mandate.

According to the Associated Press, the Department of Defense had begun ceasing all actions related to personnel who haven't received the shot shortly after the legislation was signed on December 23, including discharging troops who refused the vaccine.
Finally, after an act of Congress, Biden's Pentagon is no longer forcing troops to get the experimental and deeply-controversial COVID vaccine. Previously, soldiers and other service members who refused the shot faced dishonorable discharge.
A dishonorable discharge would not have only resulted in them getting kicked out of the military. But it meant the end of some servicemen's entire careers. They could lose not only pay but pensions and other benefits. Men and women who devoted their lives to keeping us safe were kicked to the curb.
All because they objected to getting a permanent, irreversible medical treatment.
Despite pleas from Americans, lawsuits, and growing medical data, Biden refused to budge. The Pentagon still urges service members to get the COVID shot. This administration still hasn't gotten it. Americans don't like being told they have to do something. Especially when it's Joe Biden telling them to do it.
Even to this day, Joe Biden and his administration continue to push the vaccine. This, despite growing evidence that it can have adverse side effects. Many Americans refused to get the vaccine, simply out of natural concern. For that, they were attacked by this administration, the media, and even their neighbors.
It's still a shock that Republicans managed to get Democrats to agree to overturn this military mandate. But it seems even Democrats are defying Joe to end this form of tyranny.
Key Takeaways:
The Pentagon official dropped its vaccine mandate after Congress overturned it.
Biden issued numerous mandates forcing Americans to get the vaccine.
The Pentagon threatened service members with discharge if they refused to get the shot.
Source: The Post Millennial