De Blasio Wants To Cut $1B From Your Police, But AOC Claims His "Budget Tricks" Aren't Enough For Her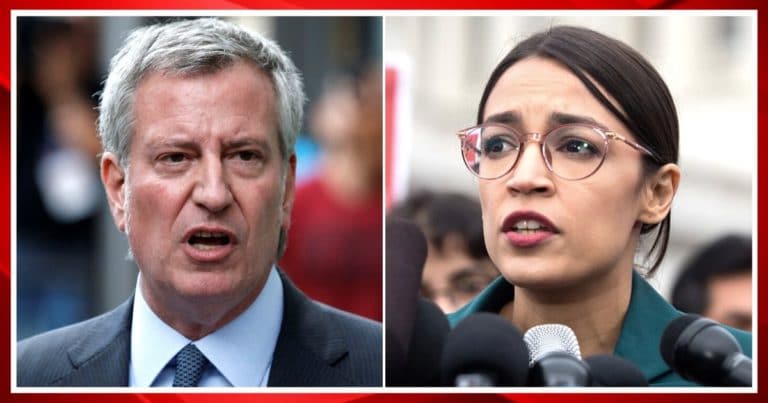 NYC Mayor Bill de Blasio recently proposed cutting $1 billion from the NYPD's annual budget. Where does he want to sent it?
To "young people" and the community at large. Will that make the city safer?
Well, aw enforcement supporters weren't happy about the idea, and neither was Rep. Alexandria Ocasio-Cortez.
However, the freshman representative was unhappy for a different reason — she doesn't think a billion dollars is nearly enough.
In fact, according to the New York Post, she calls the proposal a "disingenuous illusion."
She further added:
Defunding police means defunding police. It does not mean budget tricks or funny math.

This is not a victory. The fight to defund policing continues.
Clearly, Democrats like Ocasio-Cortez think larger, more dramatic steps must be taken to overhaul law enforcement.
But it's important to note that de Blasio's plan would include canceling the NYPD's July class of 1,163 cadets. It would also erase $350 million in overtime pay and other expenses.
Even so, AOC says it isn't enough. And on the flip side, President Donald Trump thinks it's going too far:

So, on the one side, you've got Trump and many other police supporters, calling out the billion-dollar cut as being counterproductive.
On the other side, we have AOC saying it's nowhere near enough. New York City Council Speaker Corey Johnson agrees with Ocasio-Cortez, too:
To everyone who is disappointed that we did not go further, I want to be very honest and candid: I am disappointed as well.
The debate will continue to rage:
In the wake of the George Floyd incident, how should we proceed? What should change about our current law enforcement system?
Key Takeaways:
Rep. Alexandria Ocasio-Cortez says the proposed $1B NYPD budget cuts aren't enough.
She believes it's just "budget tricks" and doesn't really solve the existing problem.
Conversely, President Donald Trump says the cuts go too far. He also condemns the idea of painting a BLM sign on Fifth Avenue.
Source: The Daily Wire