Bloomberg's 2020 Bid Is Already Circling The Drain – Hit With $7.6M Fine For "Hoax Report"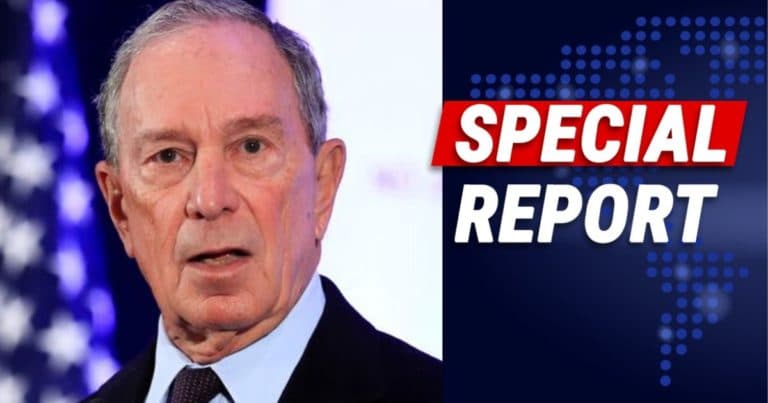 The media tried to hide it – but it's out in the open now!
Michael Bloomberg has already spent a whopping $100 million on his 2020 campaign.
He, like so many other Democrats, thinks he can buy his way into the presidency.
Although he's polling far below the rest of the candidates, he's airing ads across the country.
Most of them are hit pieces on Donald Trump, the man who turned our country around in many ways.
It seems like Bloomberg is willing to do anything to grab the nomination.
But it might not work out as he planned.
His news outlet tried a similar strategy and failed. Now, it's facing some harsh penalties.
From The Hill:
French markets watchdog AMF fined Bloomberg News 5 million euros, about $7.6 million, for its reporting on a fake news release in 2016 that led to a plunge in stock prices in France…

The AMF took action against Bloomberg News last Monday over its publishing of a fake statement claiming the construction group Vinci would revise its 2015 and 2016 accounts and fire its chief financial officer without verifying the information, Reuters reports.
Ouch, Bloomberg News is being fined for spreading a fake news story, a watchdog group claim it knew was false.
The story had a devastating effect on the markets. But the news outlet didn't seem to care.
We see this all the time from left-wing media. This is the first time in a while, though, where there were repercussions.
Bloomberg tried to spread a story that stunk to high heaven and now it has to pay.
What about Mike Bloomberg? He's been spending big bucks to slander Donald Trump.
Bloomberg's ignoring the significant success Trump's been having on the economy. Not to mention how much our nation's been thriving in recent years.
Will Bloomberg's smear tactics face the same fate as his news agency? I can't predict the future, but–yes, yes he will.
Of course, the mainstream media is trying to protect one of its own. They refuse to widely report on this bombshell.
Let's do it for them.
SHARE to tell everyone what Bloomberg has done!
Source: The Hill