Blue State Governor Goes Off the Rails – Whitmer Gets Double-Slammed in Debate by GOP's Tudor Dixon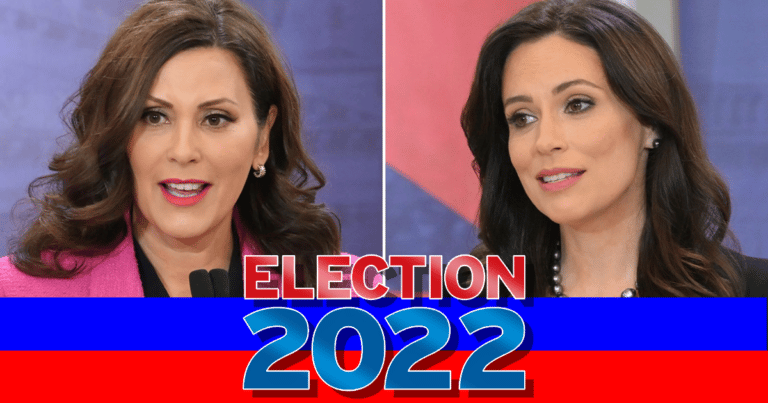 What's Happening:
What was once a "safe" seat for Democrats in Michigan is now a "toss-up." Democrat Gov. Gretchen Whitmer is reeling from polls that show her Republican rival, Tudor Dixon, gaining ground. Whitmer's close association with Biden (she literally held hands with him) and her failure to address major points of concern with voters has eroded her advantage.
Things only got worse for the Democrat in her debate against Dixon. Whitmer thought she could insult Republicans over their concerns with inappropriate content in public school books. That backfired on her immediately.
From Fox News:
Democratic Gov. Gretchen Whitmer of Michigan accused Republicans on Tuesday of trying to distract voters with the issue of explicit material being allowed in public schools…

Dixon, who has gained ground in recent polls, said during the debate that Whitmer was unwilling to stand with parents concerned about explicit material in schools, including LGBTQ books.

"We're talking about pornography in schools. Parents have risen up across the state," said the Republican nominee. "They've asked Gretchen Whitmer to comment and she's been silent on this issue."
This issue has been particularly painful for Whitmer, who appeared in a photograph supporting trans and gay rights groups. She tried to turn the issue around on Dixon, only for the Republican to slam dunk on her. Dixon went in for a killing blow when she exposed Whitmer's weakness over another critical issue.
From Breitbart:
"We have seen a massive increase in overdoses. 2021 was the highest number we gave ever seen, and we can directly correlate this to the Whitmer [and] Biden policies of having an open border…"

Overdose deaths have increased in Michigan under Whitmer's leadership.
Before Whitmer took office, drug overdose deaths in 2018 were at 2,599. In just two years, they surged to 3,040 overdose deaths. These are facts Whitmer can't just explain away. Under her leadership drug overdose deaths have surged in the state. The most lethal drug, fentanyl, comes via drug smugglers across the U.S./Mexico border.
Yet Whitmer is in allegiance with Joe Biden and has refused to support defending our border. She has not spoken out against Biden's failure to secure our border and prevent these drugs from reaching communities in her state.
Dixon, in turn, has called for more police officers to curb the rise in drug abuse. She also vowed to back Michigan police, instead of defunding them.
Key Takeaways:
Republican candidate Tudor Dixon slammed Democrat Gov. Whitmer during their debate.
Dixon called out Whitmer's refusal to support parents' concerns over sexual content in schools.
Dixon also blamed Whitmer for a staggering increase in overdose deaths in Michigan, connected to her support of Biden's open border.