After Bolton Accuses Trump Of Impeachable Offenses – Trump Claims The 'Washed-Up' Adviser Broke The Law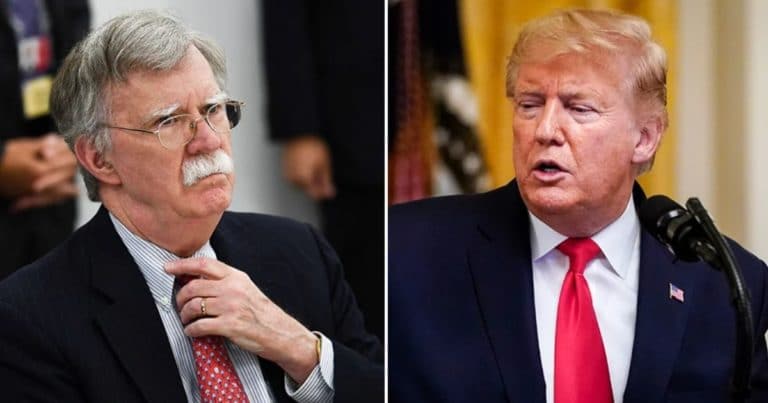 John Bolton served the Trump administration as national security adviser. But after he was fired, he began slandering the president.
Despite refusing to testify during the impeachment proceedings, the man is now publishing a book, divulging dirt on Trump's White House.
Among many unsubstantiated claims, Bolton suggests Trump sought China's help in securing the 2020 election. Based on the former impeachment charges, that would seem to be an impeachable offense as well.
The White House has sued Bolton and said he was vulnerable to prosecution if he leaked state secrets. Now, the president himself is fighting back:
President Trump lashed out at former national security adviser John Bolton in an exclusive interview on "Hannity" on Wednesday night, saying Bolton "broke the law" by writing a forthcoming book about his time in the Trump administration.

"He was a washed-up guy," Trump told host Sean Hannity, referring to Bolton.
And here's another response to Bolton from President Trump on Twitter:
Wacko John Bolton's "exceedingly tedious"(New York Times) book is made up of lies & fake stories. Said all good about me, in print, until the day I fired him. A disgruntled boring fool who only wanted to go to war. Never had a clue, was ostracized & happily dumped. What a dope!
Why it matters:
Trump called out Bolton, saying he is simply a disgruntled, ex-employee. According to the White House, Bolton was removed because of his insistence that the U.S. go to war with Iran. Bolton had also served under the Bush administration but was also fired.
Anytime a former White House staffer reveals supposed secrets, it is serious. Should Bolton's book reveal classified information, it could jeopardize national security.
Trump and his allies are accusing Bolton of endangering the country, for the sake of selling a book and winning the approval of the liberal media.
Critics question Bolton's motives and the timing of his book. He denied requests to testify during the Democrats' impeachment hearings.
Yet now, he is supposedly releasing a "tell-all" book, just months before the election. Many are saying he is simply trying to hurt Trump's chances, simply out of spite for losing his job.
But the Justice Department has made it clear: if he reveals classified information in his book, he will face the consequences.
Key Takeaways:
Former national security advisor to Trump, John Bolton is releasing a book with supposed dirt on the president.
President Trump fired back, saying Bolton is a disgruntled ex-employee.
The Justice Department has warned of the consequences if Bolton reveals classified information.