Border State Democrats Just Turned On Biden – They'll Hold Joe "Accountable" If He Doesn't Enforce Border In Arizona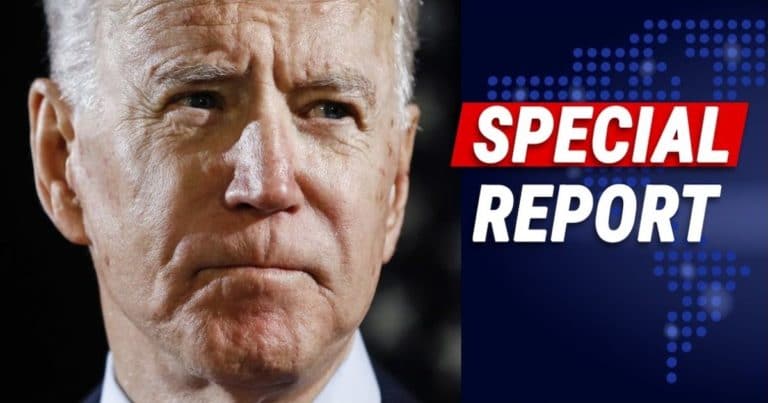 During President Joe Biden's first address to Congress, he talked very little about securing America's southern border. One of his new proposals includes money for "high-tech security."
But that isn't anywhere near enough, according to many. Critics claim the Biden administration hasn't done enough to deal with the increasingly concerning border situation.
And now, that even includes two high-ranking Democrats.
For the most part, Democrat leaders have backed the President on all topics and policies related to border security. They rarely break with Biden when it comes migration issues and national security.
However, for a few leftist politicians in border states, things are different.
Sens. Mark Kelly and Kyrsten Sinema of Arizona aren't on board with Biden's actions — or lack thereof. In fact, they're petitioning the President to be more proactive about the border.
If Biden doesn't respond with firm action, these Senators say they will hold him "accountable."
From Fox News:
In a statement released Wednesday following Biden's address to Congress, Sen. Mark Kelly of Arizona lamented the lack of attention that Biden paid to the issue during his primetime speech.

'While I share President Biden's urgency in fixing our broken immigration system, what I didn't hear tonight was a plan to address the immediate crisis at the border, and I will continue holding this administration accountable…'
My statement on President Joe Biden's Joint Address to Congress tonight: https://t.co/IhGqw8zA2u

— Senator Mark Kelly (@SenMarkKelly) April 29, 2021
Kelly says it's Biden's job to deliver "resources and staffing" that border security desperately needs, and the President must also support local economies.
This is a break with the commonly held Democrat claim that Republicans are exaggerating the border situation.
But as time goes on, we may hear similar demands and complaints from other liberal lawmakers in border states. They're in a position to see these problems firsthand, and they're already reacting.
Arizona Senator Sinema's office added:
Sen. Sinema has been clear that she — along with Sen. Kelly — wants to see more action from the administration to address the border crisis and support Arizona border communities.

She's spoken directly with administration officials on this.
Politicians aren't the only ones worried about the border, obviously. A great many American citizens view this topic as a major cause for concern, and it's only becoming more important.
On top of that, a lot of people believe former President Donald Trump had a much better handle on the situation.
According to a Fox News poll, 46 percent of Americans say the border mess is worse than it was two years ago. Only 15 percent say it's better, and 33 percent say it's the same.
Over a month ago, Biden tapped Vice President Kamala Harris to tackle the border, but we haven't seen much action there, either.
Now, even Democrats are starting to call out the administration for one thing above all else: Biden's disturbing lack of action.
Key Takeaways:
2 Arizona Democrats demand the Biden administration take more action on securing the border.
Sens. Mike Kelly and Kyrsten Sinema say if Biden doesn't act, he will be held "accountable."
Lawmakers and citizens alike are calling the border situation a definite crisis, and the President needs to address it.
Source: Fox News