WATCH: Border Town Mayor Crushes Congress – Humiliates Every Democrat Senator In 5 Words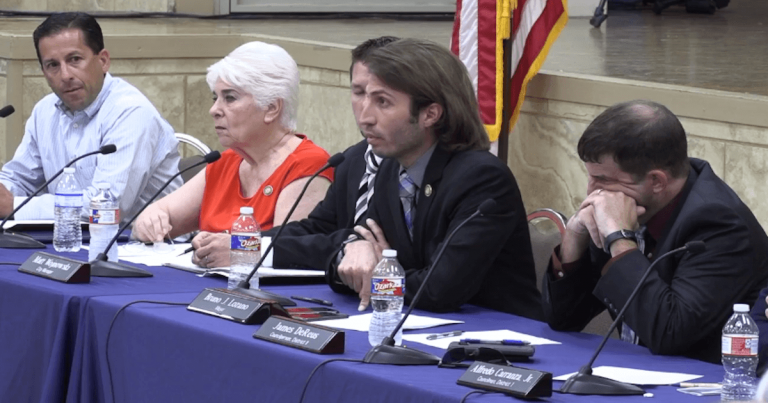 And this desperate mayor is a DEMOCRAT!
Even though the media is covering up, we can't escape our severe border crisis.
Thousands of migrants are bombarding our Southern border; many of those crossing illegally are getting released into our country.
And of course, the worst-hit parts of America are border towns.
Every month, hordes of immigrants are literally busting through into these mostly defenseless towns.
But one Democratic mayor has had enough of Congress' do-nothing attitude.
Del Rio, Texas Mayor Bruno Lozano flat-out admits that his town is being "overrun," and now he's demanding action.
From IJR:
"The Democratic mayor from the border town of Del Rio, Texas, had harsh criticism for lawmakers for not addressing the immigration crisis effectively…

'I asked that you go see firsthand and walk through what the Border Patrol is walking through… because the senators aren't here.'"
Mayor Lozano of Del Rio addresses represenitives of U.S. Sen. John Cornyn and U.S. Rep. Will Hurd at a joint session of the City Council, Val Verde County and School District.

Posted by delriobuzz on Wednesday, June 12, 2019
Mayor Lozano is calling on Congress to actually SEE how the border crisis is impacting our communities.
Most of those Democrats who refuse to pass bills to fund the border efforts are far away in D.C.
So, they don't have to face the challenges and dangers border town residents deal with on a daily basis.
But the truth is, more migrants flood our Southern regions, and there's simply no room or resources for any of them.
There is a reason why President Trump is fighting so hard to secure our border:
Without strong border protection and immigration enforcement, there'd be no stopping this outrageous influx of migrants.
Our border towns are first to be crushed by the flood … next, it'll be the rest of the country.
But will Congress listen? Will our leaders bother to see what is really going on? And will they take action?
SHARE to tell every member of Congress to wake up and DO something about the border crisis!
Source: IJR