Trump's Border Wall Finally Gets Boost from Biden's DHS – But Donald's ICE Chief Homan Claims Biden Move Is Just About the Midterms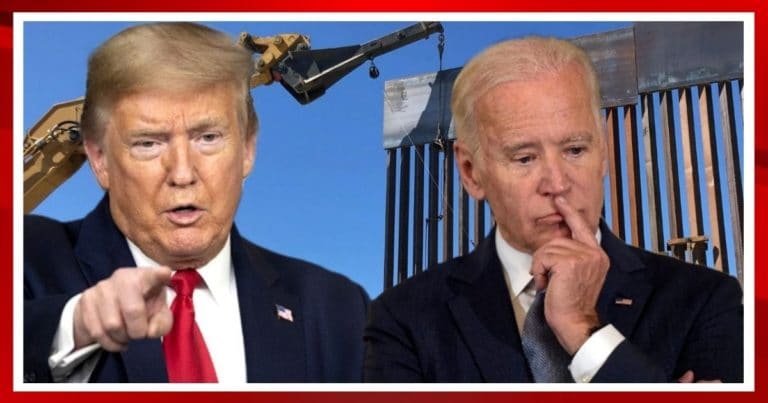 What's Happening:
Since he entered office, Joe Biden has ignored the border. Thanks to him, a devastating migrant crisis has rocked our country.
But suddenly, Biden's shifty DHS chief announced they were working on Trump's wall again.
From Fox News:
Homeland Security Secretary Alejandro Mayorkas has authorized projects across the southern border to fill in gaps in the border wall and replace gates – even as the administration continues to urge Congress to end all appropriations for the Trump-era project.
Don't be fooled by this move, though. They are mostly doing this to protect migrants, not keep them out.
And Trump's former ICE chief is blowing the whistle.
From Fox News:
"They will not build miles of wall. They won't do it because they know it works. This administration is all about open borders. Everything they've done on this border is by design," [Former Acting ICE Director Tom Homan] said.

"Now all of a sudden, the midterms are coming up. I think they're worried, so they're going to start making some changes, but they won't last and after the midterms they are going to be back to open borders. They're not fooling me for a minute."
The Department of Homeland security announced it was repairing parts of the border wall. But the work is limited to securing a few gaps and ensuring fencing doesn't harm the millions of migrants who are jumping the border.
Trump's former ICE head Homan claimed this move is just about the midterm elections. He claims Democrats are worried and want to make it look like they are "making some changes."
But he pointed out that Biden will not be building "miles of wall." He blasted the administration, accusing them of wanting an open border.
Homan even said the current border crisis is "by design."
So, why is Mayorkas approving work on the wall? Just so the liberal media can crow on about how Biden is "addressing the crisis."
Biden is hoping voters will be stupid enough to think these minor projects are going to end a crisis that is destroying communities.
But the facts don't lie. Thanks to Joe, over three million migrants have attempted to jump the border in just two and a half years.
He spent COVID relief money to bus, fly, and house these outsiders. Any calls to secure the border by state governors have been ignored.
Key Takeaways:
DHS will be doing minor repairs on Trump's border wall.
They will not be adding new wall along unfinished sections.
Former Acting ICE Director Tom Homan said this was just about the election.