Bud Light Releases a Desperate Statement – These 3 Words Prove the Boycott Has Worked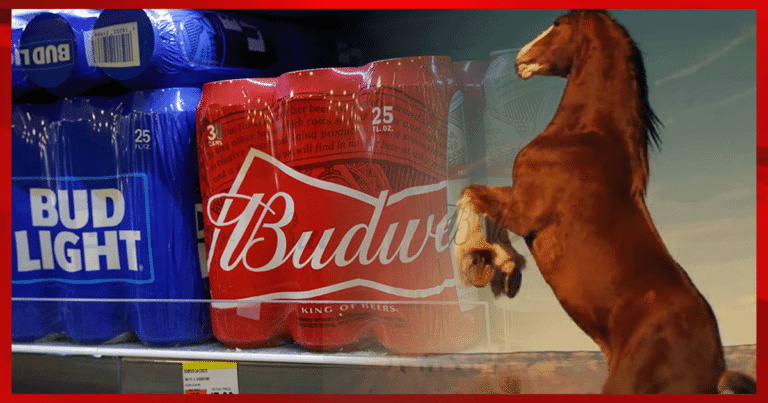 What's Happening:
When you put your foot in your mouth, you're going to have to eat a lot of crow. Or maybe dump a lot of beer.
The boycott over Bud Light going woke has worked. Beer sales have tanked for the company and beer lovers are cozying up to alternate longneck best buds.
Is it too late for Bud Light to recover from this rainbow-loving debacle? The company is trying to send out a message to unite the beer drinking community. From The Daily Wire:
Anheuser-Busch CEO Brendan Whitworth appeared to acknowledge with his most recent statement that the backlash the company is facing is having a significant impact at the company.

"We recognize that over the last two months, the discussion surrounding our company and Bud Light has moved away from beer, and this has impacted our consumers, our business partners, and our employees," the statement began. "We are a beer company, and beer is for everyone."
Well, not for everyone. Sales numbers reveal that Bud Light transgender pinups don't sell product as well as bikini-clad calendar girls.
From The Daily Wire:
Sales for Bud Light have fallen by more than 25% and its competitors have since seen a large increase in their sales. Other brands for Anheuser-Busch have also taken a significant hit, including Budweiser (-11.2%), Michelob Ultra (-6.5%), Busch Light (-5.2%), and Natural Light (-4.9%), according to numbers released late last month.
Whitworth also announced that the company is undertaking three actions to "move our business forward."
He said the company will invest to protect the jobs of frontline employees and provide financial assistance to independent wholesalers to help them support their employees.
Lastly, he finally addressed the customers:
"To all our valued consumers, we hear you.

"Our summer advertising launches next week, and you can look forward to Bud Light reinforcing what you've always loved about our brand – that it's easy to drink and easy to enjoy.

"As we move forward, we will focus on what we do best – brewing great beer and earning our place in moments that matter to you.

Here's to a future with more cheers."
This is amazing that such a large company is so dense about its customer base. The rift caused by Bud Light's jump-off-the-cliff woke advertising isn't going to be bridged with a "summertime action plan."
Millions of loyal Bud Light drinkers will never return. Anger against the company hasn't faded away with the summer heat. There are plenty of options for beer drinkers who don't want their hard-earned money going to left-wing companies that thumb their noses at conservatives.
I've had a few pals and gals in my past that have done me wrong and wandered back around with a message of healing and togetherness. The best thing I ever did for myself was to smile and keep on walking.
When the company you keep gets this bad, drinking alone or finding a new best bud is the safer bet.
Key Takeaways:
Bud Light and its parent company take a beating is sales revenue.
Corporate bigwig says the beer maker "hears you" conservatives.
Fans aren't cheering the latest press propaganda from the suds dealer.
Source: The Daily Wire