Bud Light Gets Schooled by 'Ultra Right' Beer – Awesome New Ad Tears Wokeness to Shreds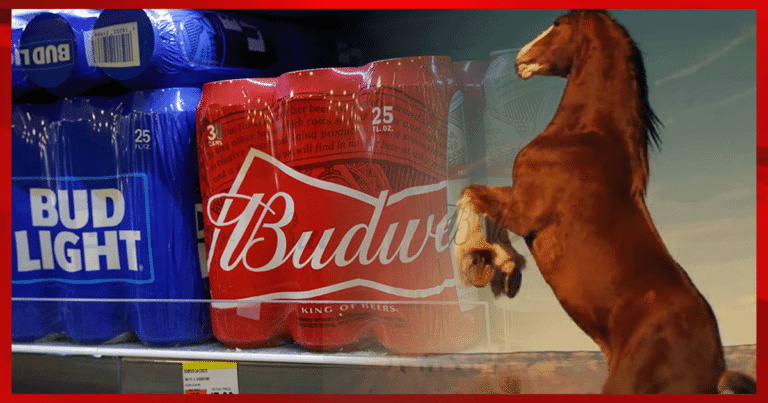 What's Happening:
Woke companies are reeling after years of attacking conservatives has awakened a spirit of "up yours" among consumers. That defiant, determined spirit has created a new group of capitalists who are challenging woke corporations head-on, and with attitude.
Everyone who isn't living under a rock knows the story of Bud Light insulting the majority of its customer base by promoting a transgender influencer on its beer cans. That advertising ditty went sour fast, and the backlash hasn't let up over the last few months.
The whole debacle spawned a new class of beer that has been selling like crazy. Just days after Bud Light stomped on the woke gas pedal a new conservative beer brand was born. Ultra Right Beer company took off in April like a hot rod.
Ultra Right Beer, the "woke-free" alternative beverage for ale drinkers boycotting Bud Light products, according to Fox Business, dropped a new advertisement in the form of a rebellious, cinematic parody. The most recent ad — shared first Wednesday with FOX Business — follows Weathers in a spinoff of the 1970s comedy "Smokey and the Bandit," a popular film featuring Burt Reynolds that followed a race car driver transporting an illegal shipment of beer across state lines.
CEO Seth Weathers isn't afraid of giant, woke companies and continues to hit Bud Light where it hurts. He wants patriotic Americans to have an alternative to stale ale from woke executives. He is on point in the latest ad.
From Fox Business:
"It's me, a fed-up American who had enough of the woke beer companies and decided to do something about it," Weathers says in the opening of the ad.

"I'm on a mission, and I won't stop until all Americans have a 100% woke-free beer company they can be proud of again," Weathers continued in the ad as he changed into western gear for "Smokey and the Conservative Dad."
Weathers' war of words against woke Bud Light has proven profitable. According to Fox Business, after only being in business for less than 15 days, Ultra Right Beer was expected to surpass $1 million in sales, gaining over 10,000 customers and selling 20,000 six-packs at $20 a pop since the April launch. Sales continue to soar for the company.
On the flip side, Bud Light's commitment to woke beer has killed its sales nationwide. Reports in the last few weeks revealed that Bud Light, once the top-selling beer in the U.S., is no longer on the list of the country's 10 most-popular beers.
How far has Bud Light fallen since it jumped on the rainbow bandwagon? Let's just say that the refreshing taste of Pabst Blue Ribbon is selling more than the former number one in beer sales.
Ultra Right Beer is showing capitalists everywhere how to take on the woke ideology infesting the corporate world. Not only is the conservative company bringing in profits, but it's also supporting efforts to promote American values.
From Fox Business:
Ultra Right revealed it is donating a portion of its funds to the 1776 Project, a PAC that works to elect school board members nationwide "who want to reform our public education system by promoting patriotism and pride in American history."
Cheers to Ultra Right Beer which is a fast-moving leader in how to dump woke companies. As Weathers says in the latest ad, "Never underestimate conservative dads on a mission."
Key Takeaways:
Bud Light loses more money as conservative dad hits back hard.
Rebellious ad reveals "woke-free" alternative to rainbow beer.
Ultra Light Beer leads the way to running over liberal companies.
Source: Fox Business