After California Breaks Federal Law – President Trump Drops His 'Tailpipe' Hammer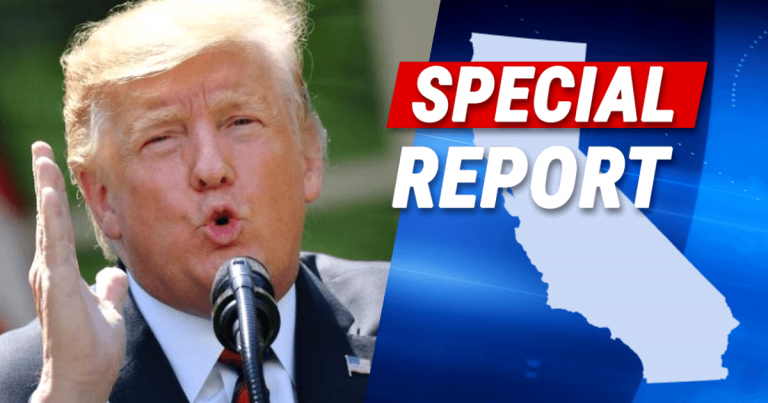 Democrats are triggered – Donald's not letting them get away with it!
California seems like they would rather be a country unto themselves.
They frequently disregard the federal government's laws. Often, they disregard the will of their own people!
All of it has amounted to a big problem. People are fleeing the state thanks to ridiculously high taxes and laws. They can't even buy plastic straws anymore!
But a recent agreement they made with car makers crosses the line. So, President Trump is sending them a big warning.
From The Hill:
The Trump administration sent a warning to California officials Friday, stating that a recent agreement the state made with automakers over tailpipe pollution could violate the law…

The administration is arguing that the state lacked authority under the Clean Air Act to set fuel economy standards in conjunction with the car makers.
California Democrats seem to think they know better than the federal government.
They made it clear since Trump entered office that they aren't interested in what our government decides.
They're going to do things their way—federal laws be damned.
But there is a good reason we have a Congress and president, California. It's so states can't run roughshod over the will of the people.
Congress passed the Clean Air Act so that all Americans can enjoy clean air. Those standards were set for a reason.
But, as usual, California wants to make things much more complicated. They know that if carmakers want to see cars in their state, they have to follow CA's rules.
Think about that. They're not going to make separate cars for California. So, carmakers will have to make all their cars meet California's left-wing rules.
Even the ones bought and sold outside the state.
That's the kind of tyranny California wants to impose on all the country. Without the rest of us having a say in it.
President Trump is smacking back, saying the federal government decides clean air standards. If California wants it changed, they have to work with the rest of us.
Clearly, they want to dictate everything and force the rest of the country to just comply.
SHARE if you don't want California deciding what kind of car you can buy!
Source: The Hill