California Governor Promises Suffering Residents Millions – Instead They Only Received Chump Change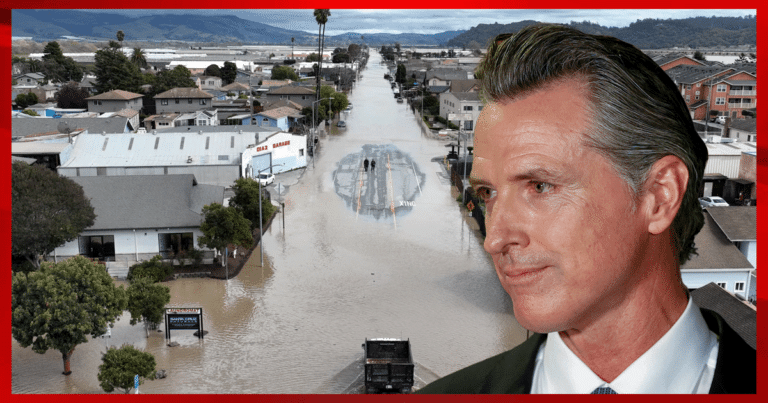 What's Happening:
After facing seasons of crippling drought, California is now being buried in damaging floods. No other state seems to swing from such extremes. Critics claim the leftist government's radical environmental policy is largely to blame (it is responsible for their yearly wildfires). The floods hammering parts of California have left residents ruined.
But the governor, eager to win hearts and minds, vowed to give a flood-damaged community $42 million in relief aid. That would certainly go a long way in helping families rebuild their lives and businesses recover. But when the checks came out, old Newsom was a few dollars short.
From Breitbart:
Some relief workers in the Pajaro, California, area flooded by recent rains are furious after Gov. Gavin Newsom (D) promised $42 million of aid — but only $300,000 is, in fact, available…

[United Way President] noted that the county's share of the statewide $42 million comes to $300,000, and "in the coming days we'll be developing our strategy for distributing that relief." […]

One relief worker called Newsom's misleading claim a "slap in the face."
Wow. Gov. Newsom traveled to Pajaro, CA and promised them he had $42 million in aid from United Way, provided by USDA. What he didn't say was that money came out of funds provided by former President Trump to the state for COVID relief.
Any of that money that hasn't already been spent doesn't seem to be going to help these folks in Pajaro, a predominately Hispanic community made up of farm workers. The total amount to help them rebuild their homes and businesses is $300,000.
Most will only get a check for $600. Oh! That will fix my destroyed house! Most insurance plans don't even cover flood damage from a bad storm, let alone the devastating floods that have hit this region.
Now, let's look at the facts. Other forms of relief might come, from FEMA or other sources. Gavin knew he only had $300,000 to provide for these people, at least through this program. So, why did he blatantly lie by suggesting they were getting $42 million?
Because he just wanted the applause such a statement would have made. He is nothing but a shameless, hollow politician, who only cares about his image. When push comes to shove, he's got nothing. No real leadership. No real backbone.
He left it to United Way's president to give the bad news, that these folks would only get 1% of the money he promised.
What kind of man does that to his state? Not a real man, I can tell you that.
Key Takeaways:
Newsom promised $42 million to flood-damaged residents; they will only get $300,000.
The money is coming out of a fund provided by former President Trump for COVID relief.
Devastating floods have damaged numerous communities, including farms and businesses.
Source: Breitbart