California Governor Blames Trump For Fires – Jerry Goes Too Far, Says: "The Blood Is On Your Soul"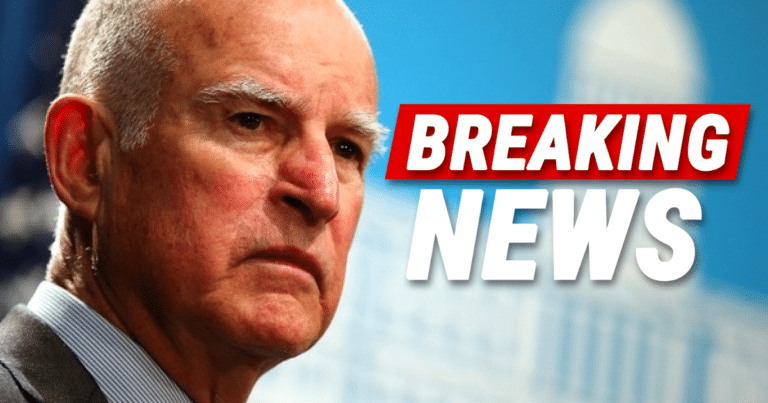 If you live in California, let me first say I'm sorry.
Right now you face problems on a Biblical proportion. Wildfires are ripping through the state, during a season when there should be none.
The fires are getting so bad, major cities and communities are in grave peril.
But there is a reason these fires—and soon mudslides and other disasters—keep happening in CA.
And no, it's not the wrath of God (as much as you might think it its), it's because of horrible leadership.
Former Gov. Jerry Brown admits that much. But instead of taking personal responsibility for California's woes, he is accusing someone else.
The president.
From Breitbart:
Former California Governor Jerry Brown told Congress on Tuesday that President Donald Trump and the Republican Party were responsible for the ongoing California fires because of their opposition to drastic climate change policies…

"The blood is on your soul here and I hope you wake up. Because this is not politics, this is life, this is morality. … This is real."
Oh, this is real, Brown? Then why did you sit back and let your state fall into ruin?
California used to be the "Golden State." Now it is the state of rampant taxes, filth, and homelessness.
Jerry Brown did nothing as California's infrastructure fell apart. He looked the other way as far-left laws prevented needed measures to reduce the chances of forest fires.
He refused to build water reservoirs, which the state Congress approved. Reservoirs that would have provided enough water to prevent and combat wildfires.
But no, it's Trump's fault. A man who has been president for only three years and has actually helped clean up our environment.
How many years was Jerry Brown in office? Nearly a decade? And yet he sat back and helped this crisis become a reality.
Now he has the gall to accuse the one man capable of fixing his massive mistakes.
We all know California lawmakers ignored the corruption that led to these problems. They refused to invest in improving their state.
So these crises only continue. Now, in order to avoid prosecution perhaps, pathetic Brown is blaming Trump.
That's nice, Jerry. But it won't restore all the lives that have been ruined by your incompetence.
SHARE to spread the word if you want Jerry Brown investigated for everything he did as governor.
Source: Breitbart