Hours After New Caravan Heads For Border – Mexico Turns Into Trump's Wall, Halts Thousands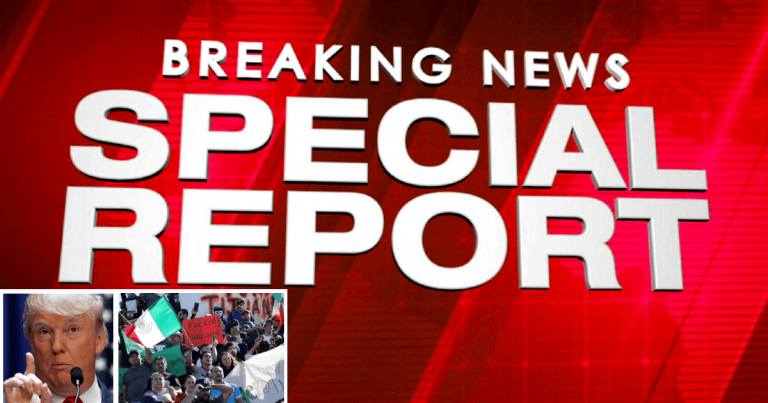 Another caravan headed for our border – but they never saw Trump's 'Mexico' wall coming!
Congress may have let Trump down, but Mexico is keeping up its end of the bargain.
President Trump scored a major win with Mexico over the summer. Our neighbor is helping reduce border crossings by beefing up their own security.
Since the agreement was made, attempts at the border have dropped big time. Some are saying Mexico itself has become Trump's wall. They are doing what our own congressmen refuse to do: keep our country safe.
And even now, this deal continues to work. A new caravan of thousands tried to sneak across the border in the early morning hours.
It looks like their plans didn't work out as they had hoped. Because Mexico isn't playing around anymore.
From Fox News:
A caravan of roughly 2,000 migrants bound for the United States early Saturday was halted by Mexican authorities only a few hours into their journey, according to officials.

The caravan, which consisted of migrants from Africa, the Caribbean, and Central America, left before dawn from Tapachula, a town in southern Mexico near the Guatemalan border…

About 24 miles into their journey, federal police and national guardsmen blocked their path. Most of the group was detained and put on a bus back to Tapachula.
Wow. A caravan of around 2,000 tried to get across the border early Saturday morning.
What happened? They ran into a wall of Mexican authorities who turned them away.
These people, from Africa, the Caribbean, and Central America, were forced to go back to Tapachula.
Many of these people were seeking asylum in the United States. That's fine. But the new rules require them to wait outside the country until their case is reviewed.
I guess this group got tired of waiting and thought they could just cross over. I'm sure they were hoping to get caught after crossing into the U.S., where our broken catch-and-release rules would have let them stay.
They weren't counting on Mexico keeping their end of the agreement and stopping them in their tracks.
This is why we need a secure border. Anyone should be able to come to America, safely and legally. But they have to follow the rules or they'll be chaos.
Our Congress has refused to do anything to ensure these people follow our rules. Their blind eyes have made Americans much less safe.
Only Trump is getting the job done, by landing this agreement with Mexico. Mexico is now doing more to protect our border than our own "leaders" in Washington.
Really makes you wonder why they still have jobs.
SHARE to thank President Trump for getting Mexico to protect the border!
Source: Fox News