After California Begs Carson For More Money – Ben Drops His Hefty HUD Hammer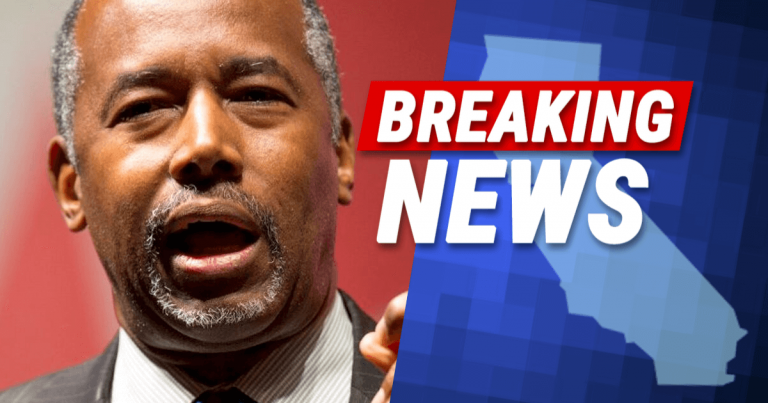 California didn't think he would do it – here comes Dr. Ben!
President Trump has been on the move lately. Most recently, he visited California, where he was shocked at the state of the liberal-run region.
Many of their once-great cities are in a total mess. Nobody seems to know why cities in California are struggling so much.
Their solution? To demand more money from the federal government to fix their many, many problems.
Well, too bad for them Trump and his HUD head Ben Carson had a hard answer.
From ABC News:
[President Trump and Ben Carson are] rejecting requests from local officials for help and escalating the blame game between the federal government and the state…

"Your letter seeks federal dollars for California from hardworking American taxpayers but fails to admit that your State and local policies have played a major role in the current crisis," Sec. Carson wrote in a letter responding to the leaders.
Take that, big-spending Democrats! The governor of California wanted more tax dollars to address their problems.
But Ben Carson shut down their never-ending demands for your money with a powerful letter.
He made it clear that California is in such a bad state, because of ongoing policies from Democrats.
California Democrats jacked up taxes and make it hard for companies to build new housing.
Not to mention made the entire state a sanctuary.
Yet not once did Gavin Newsom or other California leaders admit their own policies have made the situation worse.
They think they can keep pushing ideas that damage CA, and expect Trump to hand over more of your money.
Outrageous.
Carson is shutting down the federal government piggy bank. He is making it clear to California that unless they change many of their policies, nothing will ever get fixed.
It's pretty simple. If California's leaders roll back policies that have harmed the state, the situation would improve quickly.
Perhaps even overnight.
Instead, they ignore their own role in the problems and put the blame on the federal government.
But that move isn't going to work anymore.
SHARE if you think California shouldn't get another dime!
Source: ABC News