After CHAZ Renames Itself CHOP – Trump Jr. Picks From Tucker's 8 Name Suggestions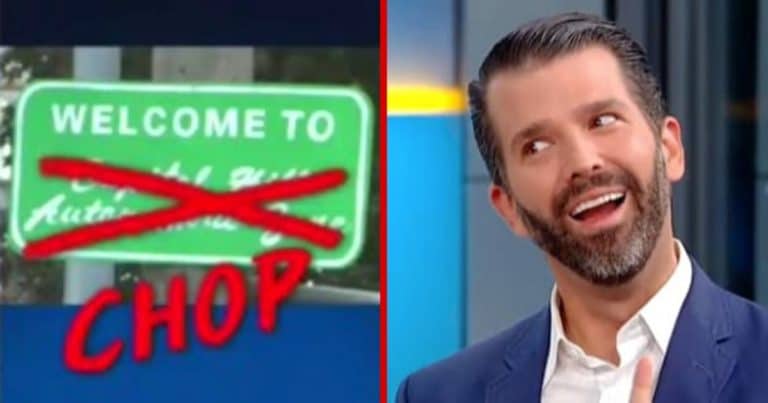 Many Americans were stunned when a group of radicals took over a six-block area of Seattle.
These apparent anarchists are trying to live independent of America's laws, despite constantly pleading Americans for food and funds.
It seems their self-made name "Capitol Hill Autonomous Zone" or CHAZ wasn't really working out. They recently decided to rename their experimental society to CHOP: "Capitol Hill Occupy Protest."
Perhaps this is to rebrand themselves after Occupy Wallstreet, a movement from the early Obama administration.
Tucker Carlson, commenting on the rebranding, decided to suggest a few more names. And Donald Trump Jr. listed his favorites: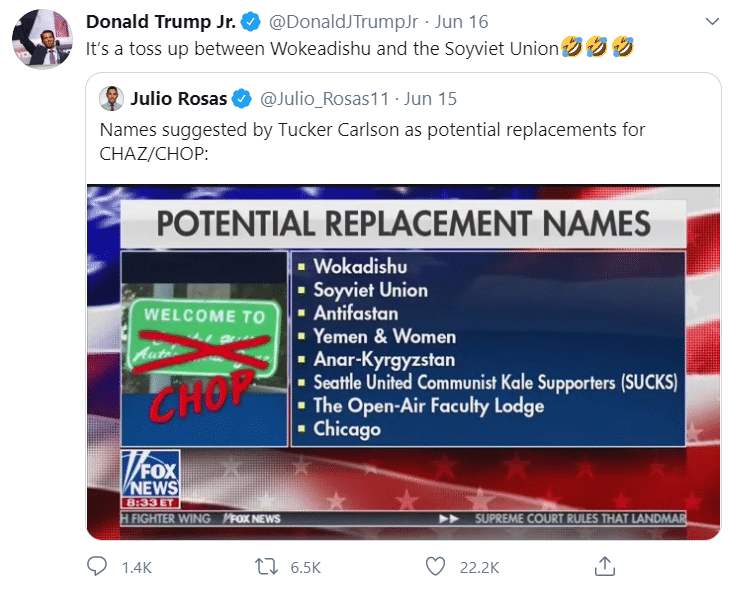 Those are some great ideas—but why does the name matter so much?
The mayor of Seattle has been desperately trying to downplay concerns over CHAZ, now CHOP. She has called it a "block party" and suggested it was similar to the Summer of Love.
But it appears this hasn't helped, as local residents plea for help, as CHOP residents shakedown or outright harm businesses.
Police or the fire department won't come to the area. Donald Trump has demanded it be brought to an end immediately. If the local authorities won't, it will be up to the federal government to do it.
Perhaps that's why they changed their name from an "autonomous zone" (meaning they are outside the laws of the U.S.) to an "occupy protest."
Protests, after all, are considered legal under the First Amendment, although stories persist of the violent nature of CHOP occupants.
Tucker criticized these anarchists, exposing their apparent silliness and imminent failure. His segment illustrates just how ludicrous this entire situation is and how regular Americans nationwide are getting sick of it.
Key Takeaways:
Residents of CHAZ recently remained the "settlement" to CHOP.
Tucker Carlson mocked the rebranding, with Donald Trump Jr. chiming in.
The "autonomous zone" is now considered a "protest," perhaps out of fear of what could come next.
Source: Twitter