Liberal School Demands Chick-fil-A Banned – They Say They're Worried About Their Students' 'Safety'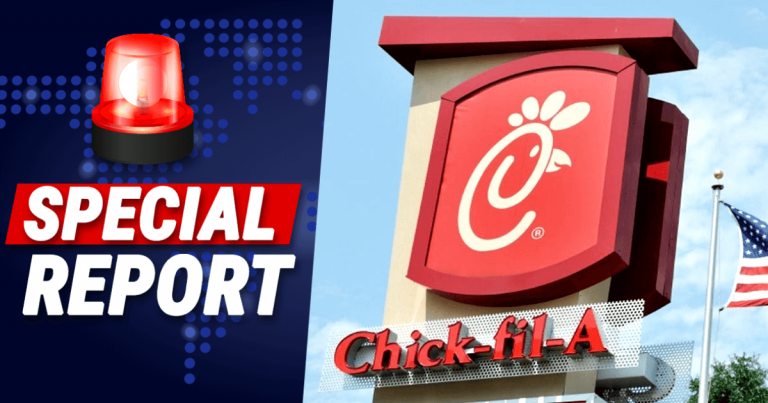 They want Chick-fil-A banned for WHAT?!
Few Americans don't love fast-food chain Chick-fil-A. That's because they provide quality food, amazing service, and embody Christian values.
There's a reason it's becoming the most popular restaurant in the United States.
So, of course, liberals with no sense of taste (those chicken strips are amazing!) are attacking this company. For over ten years, liberals have tried to get people to boycott Chick-fil-A over their founders' Christian views.
And over the last ten years, the company has only become more popular.
A group of whiny college professors is outraged that Chick-fil-A is getting more popular on their campus. But their reasoning is just ridiculous.
From Fox News:
A few Kansas University faculty members are not fans of allowing Chick-fil-A to be served on campus because they believe the chain violates "safety and inclusion".

The faculty council, filled with "extreme frustration," wants America's favorite restaurant removed from campus for being a "bastion of bigotry" after KU administrators relocated a Chick-fil-A from a basement to "prime real estate" on campus to the Memorial Union.
Some Kansas U faculty members are outraged that Chick-fil-A is being served on campus. They accuse the company of violating "safety and inclusion."
Yep, that always happens when I entered a Chick-fil-A. I get a sense of danger and exclusion!
What utter nonsense.
Chick-fil-A is one of the best-run companies in the country. They have highly-trained and helpful staff that make you feel welcome the moment you entered the restaurant.
Their food is fresh and affordable. They even provide healthy options for those watching their calories.
Most chains will stay open well past closing to accommodate the long lines of customers.
What, in all that, do you see a hint of safety and inclusion violations?
None. This is just another attempt by godless liberals attacking a company that represents Christian values.
You see, many atheist liberals (especially college professors) how many Christians and people of faith are in this country.
They hate being reminded that there are believers all around them. So, they want to turn America into a "safe space," where religion is not allowed.
All the while companies like Chick-fil-A thrive. Coincidence? Nope!
But if people don't find out what this school is doing, it could start happening all over the country.
SHARE if you support Chick-fil-A, not snowflake professors!
Source: Fox News