After U.S. Shoots Down More Chinese "Objects" – Border Patrol Makes Concerning Announcement: China Migrants Soar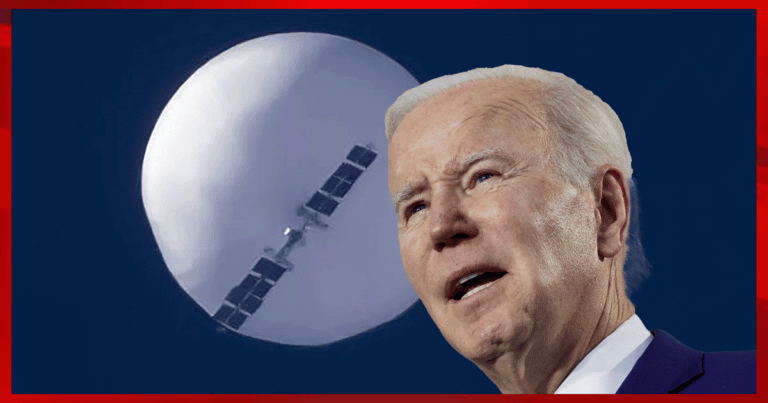 What's Happening:
Americans are understandably up in arms over the news that our military shot down several more mysterious objects over the last few days. It started with a large balloon equipped with antennas to spy on Americans. Since then, at least four suspicious objects have been seen in the last eight days.
Voters are giving Joe very low marks for his reaction to this seeming China invasion. The communist nation is sending all kinds of flying objects into our airspace. Because Joe was so slow in responding to the first, who knows what they'll send over next. And now, China isn't just resigned to attacking us from above.
From Just the News:
U.S. Customs and Border Protection has apprehended over 700% more migrants from China at the southern border so far this fiscal year, compared to fiscal 2022.

Since October, the start of each fiscal year, Border Patrol has encountered 2,999 Chinese nationals at the southern border, more than the 2,176 Chinese migrants encountered at the border during all of fiscal 2022, according to federal data released Friday.
This should have every American alarmed. By this time last year, only 366 Chinese nationals were caught sneaking over the border. This year, there have been 2,999. That is a 719% jump in just the first part of the fiscal year.
Gee, I wonder if this is in any way related to everything else China has been trying to do? We know China wants to invade Taiwan, since Biden did nothing to defend Afghanistan or Ukraine. We know they are sending over more spy balloons, because Joe was so slow with the first one.
Now we are seeing a major increase in Chinese nationals along the border–because China knows Biden isn't bothering to defend it. Why are Chinese nationals trying to sneak through the Southern border?
Need we remind you, China is across the Pacific Ocean. Many Chinese nationals come to our country via plane or boat, landing on the West Coast. But apparently, some are flying or sailing to Mexico and sneaking up through the border.
Why? Because it is an easier way to sneak into our country, undetected. If these were simply migrants seeking asylum, they wouldn't have to go that way. Instead, these nationals had something else in mind. And it should be a concern for all Americans.
But I'm sure Joe will do nothing about it. He has made it very clear he has no intentions of confronting the threat China poses around the world.
Key Takeaways:
The U.S. military has shot down four more objects sent from China.
Border Patrol announced a 700% increase in Chinese nationals sneaking over the border.
Joe Biden is notoriously weak on China, ever since he was vice president.
Source: Just the News