After Chinese Spy Balloon Spotted in Montana – Republicans and Democrats Team Up Against Biden to Demand It Shot Down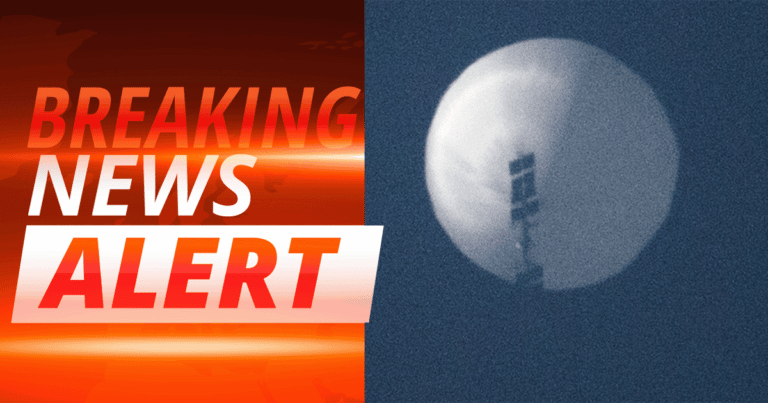 What's Happening:
Well, we knew this was going to happen sooner or later. Because Joe Biden is basically a Chinese puppet, the Chinese Communist Party doesn't fear the United States. They have been spying on Americans through the social app TikTok for years. And now, they are getting much bolder.
From The Post Millennial:
A suspected Chinese surveillance balloon has been observed moving into Montana air space after traveling for several days across northern states…

OPD reports that a senior defense official speaking on the condition of anonymity told Pentagon reporters that the US. has 'very high confidence' it is a Chinese high-altitude balloon and it was flying over sensitive sites to collect information."
So, China sent a balloon to spy on us. Yet, at the moment, the Pentagon refuses to shoot it down. Are you kidding me? China is taking such a shocking move, blatantly flying this balloon over our country–and Biden won't do anything about it?
Some even worry this is a "dry run" for a big attack.
From The Washington Examiner:
High-altitude balloons, such as the one China has floated over mountain state military bases this week, are considered a key "delivery platform" for secret nuclear strikes on America's electric grid, according to intelligence officials.
And now, both parties are demanding swift action against our communist enemy.
From Fox News:
Members of Congress in both parties are calling the spy balloon an unacceptable violation of U.S. airspace and American sovereignty. The chairman and ranking member of the new select committee on China, Reps. Mike Gallagher, R-Wisc., and Raja Krishnamoorthi, D-Ill., put out a joint statement Thursday condemning China ahead of Secretary of State Antony Blinken's trip to Beijing for talks with his Chinese counterpart.
The top members of the House Committee on China, a Republican and a Democrat, issued a damning statement about the spy balloon. They called this move a violation of American airspace. They also said that the threat from the CCP is "here at home."
Both parties are calling on Congress to "act to counter this threat." But will Joe Biden do anything about it? His Pentagon has already refused to shoot the thing down, allowing China to continue to spy on us.
The only way this is going to stop is if Congress acts. Biden is too compromised by the communist nation. Both parties in Congress must move to sanction China, halt their access into our country, and hold them accountable for this shocking act.
If I was the governor of Montana, I'd order the National Guard to shoot that damn thing out of the sky. Something tells me someone is going to, Biden's weakness or not.
Key Takeaways:
A Chinese spy balloon was seen flying over Montana.
Officials believe it was trying to collect data on sensitive areas of the country.
Biden's Pentagon has so far refused to shoot down the balloon.
Democrats and Republicans in Congress are calling for immediate action.
Source: The Post Millennial, The Washington Examiner, Fox News