Christian Teacher Fights Back After Getting Fired – She Just Nailed Her School with First Amendment Lawsuit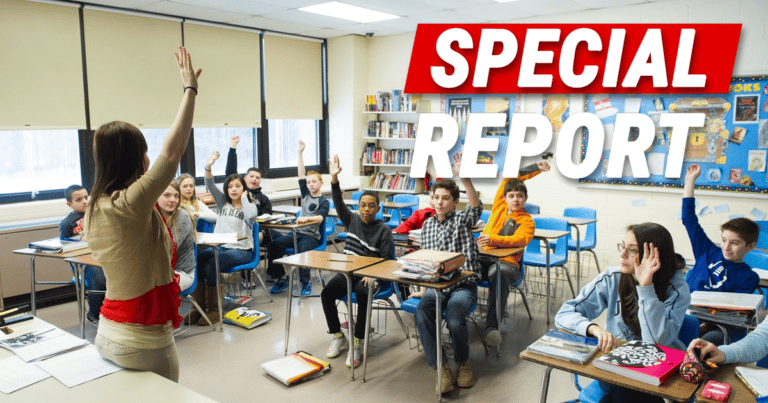 When Vivian Geraghty was fired for "insubordination" from her Ohio middle school, she said her rights were being violated.
That's because all she did was refuse to use "preferred pronouns" in class, claiming religious beliefs and the First Amendment.
And now, she's taking real action — and the school is facing a giant lawsuit.
The lawsuit was filed on Monday in U.S. District Court for the Northern District of Ohio.
In the suit, Geraghty accuses school administrators of violating her freedom of speech and religious freedom, so this is a significant Constitutional case.
Geraghty refused to address two students who claimed to have new gender identities by their chosen pronouns, and she was quickly let go.
Via Washington Examiner:
After Ms. Geraghty explained her beliefs … Defendants Carter and Myers told Ms. Geraghty that 'she would be required to put her beliefs aside as a public servant.'

Ms. Geraghty explained that she could not put her beliefs aside, and she did not believe she could be compelled to do so as a condition of public service.
The defendants at the school, which includes curriculum director Monica Myers, said that Geraghty's behavior qualified as "insubordination."
Geraghty was given an ultimatum – obey the school or resign – but the teacher stoically stood her ground.
She was then ordered to write her resignation letter and was escorted off school grounds. The story hit national news headlines shortly after.
Alliance Defending Freedom legal counsel Logan Spena called the school's actions "unconstitutional."
Spena added:
Schools can't force teachers to set their religious beliefs aside just to keep a job and they also can't force teachers to say things that are untrue and harmful to students.

Vivian loves her students and only wants what's best for them, but the school doesn't care about that — otherwise, they would have worked with Vivian instead of immediately forcing her to resign.
This is the sort of case that's bound to get plenty of attention across the country, as the gender issue continues to be extremely controversial.
Key Takeaways:
An Ohio middle school teacher was fired for refusing to use the "preferred pronouns" for two students.
She's now suing the school for violating her freedom of speech and freedom of religion rights.
Alliance Defending Freedom lawyer Logan Spena said the school's action was unconstitutional.
Source: Washington Examiner