After Christianity Today Supports Impeachment – Franklin Graham And Trump Drop The Double-Hammer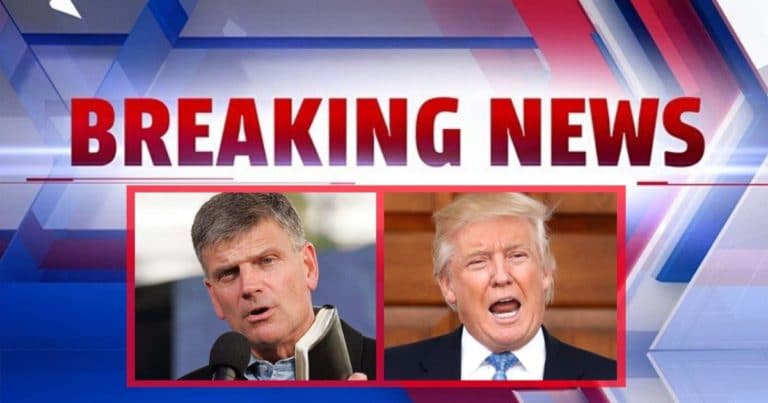 They just crossed the line – so Franklin and Donald are taking action!
Defying the will of the American people, Democrats voted to impeach Donald Trump. Like little children, they refuse to send the articles to the Senate for a trial.
While far-left socialists celebrate this move, one ally has millions of Americans shocked.
An evangelical magazine is jumping in to support Nancy Pelosi and the secular politicians who are trying to take Trump down. They published an article agreeing that the man making American great again should be removed from office.
They even invoked the name of celebrated evangelist, Billy Graham, to justify their radical stance.
It seems they made a major mistake, because Billy Graham's son, Rev. Franklin Graham, just called them out.
From Twitter: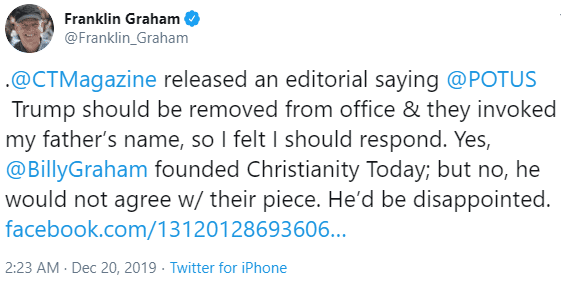 [email protected] released an editorial saying @POTUS Trump should be removed from office & they invoked my father's name, so I felt I should respond. Yes, @BillyGraham founded Christianity Today; but no, he would not agree w/ their piece. He'd be disappointed.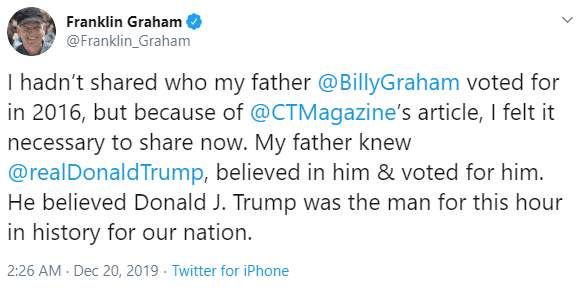 I hadn't shared who my father @BillyGraham voted for in 2016, but because of @CTMagazine's article, I felt it necessary to share now. My father knew @realDonaldTrump, believed in him & voted for him. He believed Donald J. Trump was the man for this hour in history for our nation.
Wow. Franklin Graham called out Christianity Today for saying Trump should be impeached. In fact, Graham shared with the world that his father (who died last year) voted for Donald Trump in the 2016 Election.
Franklin said his father, who was a beloved minister to millions, said he believed Trump was the "man for this hour in history for our nation."
I guess this Christian magazine didn't bother consulting Billy's own son before they published their bizarre, left-wing hit piece.
President Trump weighed in on the magazine's disgraceful article, making a pretty important point.
From Twitter: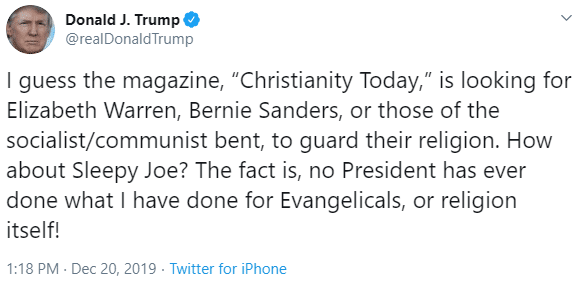 I guess the magazine, "Christianity Today," is looking for Elizabeth Warren, Bernie Sanders, or those of the socialist/communist bent, to guard their religion. How about Sleepy Joe? The fact is, no President has ever done what I have done for Evangelicals, or religion itself!
President Trump called out the magazine, saying they must want Warren, Sanders, or other socialist Democrats to guard their faith.
We know how well that'd go!
Over the course of my lifetime, I've watched as Democrats worked to dismantle our Christian heritage.
It's not conservatives who support ending the lives of unborn children, attack Christian businesses, or embrace lifestyles that violate the Bible.
Liberals have declared religious Americans, particularly Christians, as their enemies. Entire left-wing groups—who support the 2020 Democratic candidates—are dedicated to wiping our faith from the country.
How could a Christian magazine endorse candidates like that? It's shocking to think this once magazine of faith is now bowing to the toxic left—like the rest of the mainstream media.
SHARE if you stand with Billy and Franklin Graham, not the liberal "Christianity" Today!