City Says It's 'Too Expensive' To Fly American Flag – Veteran Offers To Pay For It All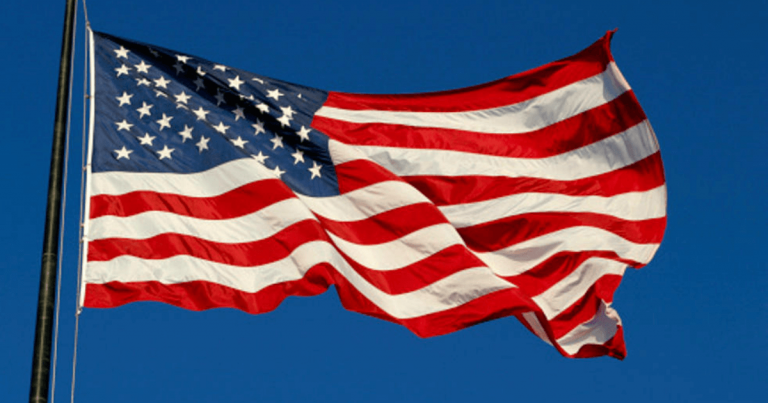 SOCIAL: When the city said they couldn't fly the American flag because it was "too expensive," one patriotic veteran stepped in with a brilliant idea.
For years, saying, "I'm American," hasn't been in fashion.
It's also been frowned upon to fly an American flag at one's home or in one's yard, regardless of whether it's a holiday or not.
And it seems for years our country, our government, and our president have been entirely devoid of pride and patriotism in our flag, national anthem, and the ideals, traditions and beliefs that bind us as a people and as a nation.
Enter President Trump: he promised to restore respect for America's flag.
And in doing so, we've been freed; we're allowed to be Americans again–to have pride and patriotism again, and to share in a common culture again.
That's why this simple story about a flag and a Korean War veteran in a small Iowa town means so much to us.
From Western Journal:
"An elderly Korean War veteran and a few hundred dollars were all it took to get the city council of Independence, Iowa, to reverse its decisions to stop flying the city's most prominent American flag and not to keep its welcome sign illuminated.
After waiting for others to step up and fund the town's landmarks after the city council voted unanimously on April 30 not to, Bill Coulter took matters into his own hands before Memorial Day and offered to pay for their upkeep.
'They said 'Welcome to Independence' was too expensive to operate,' Coulter said of the electric bill in an interview Tuesday on the Fox News Channel's 'Fox & Friends' program.
'I went to find out how expensive the bill was. It was $10 a month,' he added."
Pretty sad when 10 bucks a month is too much for the city council to show patriotism. At least the citizens care and want to do it!
Coulter had four donors lined up who each help paid for the flag, and he said he was willing to look for other patriotic benefactors as well.
It was a simple plan and it was bound to work. Thankfully, after hearing it, the council voted unanimously to reverse their April 30 decision.
And this is why it's so important to fight stupid red tape laws, especially when it comes to patriotism.
This isn't merely a local issue, it's about all U.S. citizens. It binds us all as Americans. Bravo to Bill Coulter and to President Trump, and to us–as a thankful and grateful people.
Where the government fails, private citizens succeed!
Source: Western Journal