Clarence Thomas Just Took On Washington – Ohio Attorney General Sides With Him On Turning Google Into Utility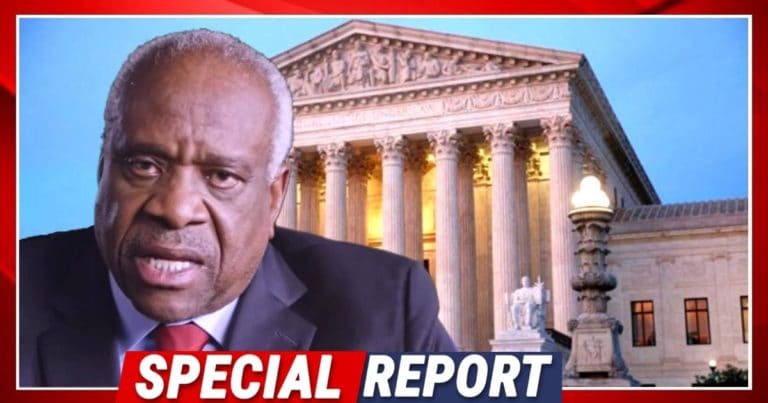 What's Happening:
Supreme Court Justice Clarence Thomas has had a long and storied career. But up until recently, he's been known for being mostly quiet and reserved.
But in recent months, the conservative justice has become much more outspoken.
He has rattled the left's cages by frequently speaking out on critical issues facing our country.
Although some people might want him quiet, he is in no way keeping his mouth shut.
And we are now seeing why Democrats want him quiet. His recent remarks about Google have sparked a major lawsuit.
From Daily Wire:
Ohio Attorney General Dave Yost has asked the court to legally declare that Google is a "public utility" in a lawsuit filed against the Big Tech giant…

"Justice Thomas recently stated, 'there is a fair argument that some digital platforms are sufficiently akin to common carriers or places of accommodation to be regulated,'" the complaint points out.
Inspired by Thomas's comments about Google, the AG of Ohio is calling on the court to make Google a "public utility."
Dave Yost's argument is that, according to Thomas, Google dominates online activity. They own 90% of the market share for internet searching, it's hard to argue they aren't like an electricity or water provider.
Thomas has previously commented that Google and similar companies should be branded "public accommodations" and be forced to adhere to the same rules as telephone companies.
The Supreme Court justice weighed the possibility of legislatures treating Bid Tech providers the same way they do other companies.
That could lead to states passing laws that prevent Google, or other online companies, from regulating the content that appears on their sites.
It would be similar to how a phone company can't dictate what users say while on the phone.
But up until now, companies like Google hold significant power over what users see online. It can decide if a website shows up on its search results.
And we all know how these tech companies have serious, left-wing bias. Branding them public utilities would prevent sites like Google from altering the content we see.
Google, as you can expect, is trying to fight back. But its owners are probably very scared that this case goes all the way to the Supreme Court.
Because if Thomas is deciding Google's fate, he just might side with the public.
Key Takeaways:
Ohio AG is suing to have Google be declared a "public utility."
He references comments by Clarence Thomas about striping First Amendment protections from Big Tech.
The Supreme Court justice previously said lawmakers should be able to make tech providers "public accommodations."
Source: Daily Wire