After Clarence Thomas Stands Up to SCOTUS Bullying – Protesters Prove His Point and Pressure Conservative Justices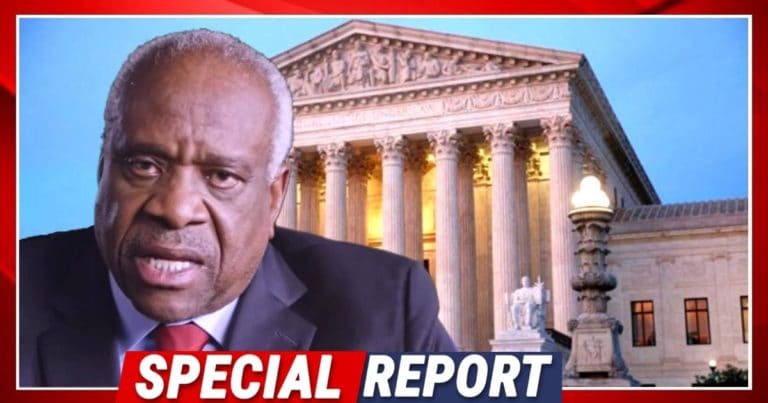 What's Happening:
Most conservatives seem to think someone leaked the Supreme Court decision to incite outrage among leftists. And many Democrats, eager to defend Roe v. Wade, have promised to "punish" those who want to protect unborn life.
Supreme Court Justice Clarence Thomas, along with other members of the court, blasted the left.
From Axios:
Supreme Court Justice Clarence Thomas said Friday that government institutions can't be "bullied" into giving people the outcome they want, multiple news outlets report.
Thomas scolded the left, saying they need to live with the outcomes they don't agree with. But the radical left, fueled by Democrat cash and socialism, proved his point anyway.
From YouTube:
Proving the justice's point, protesters assaulted the private homes of conservative Supreme Court justices. Their goal is to terrorize these justices, hoping they will break down to mob rule.
Even Nancy Pelosi, the Speaker of the House, called on more people to pressure the court.
This proves that Pelosi, and her party, are no longer on the side of law and order. The fact they are trying to exert outside pressure on the group that is supposed to rule on the law and law alone shows the Left wants power at all costs.
Don't believe their lies that this is about "women's rights." Democrats get millions of dollars from abortion providers.
Democrats in Congress give hundreds of millions of tax dollars to Planned Parenthood and other groups. Then these groups donate millions to Democrat campaigns.
Meanwhile, millions suffer because of the left's unchecked greed.
What's so hilarious about their "protests" is that they ignore the fact that this doesn't outlaw abortion. It only gives states (i.e. the democratic voting public) the right to decide their own abortion laws.
So, the left is ranting and rioting because some states won't listen to their demands.
Uh… who are the crazy ones?
Key Takeaways:
Clarence Thomas told the left the court won't be bullied.
Leftist activists protested outside the homes of Supreme Court justices.
Pelosi urged activists to "pressure" the highest court in the land.