Report: FBI Releases $30B Treasure Trove Of Clinton Evidence – Hillary Is In Deep Trouble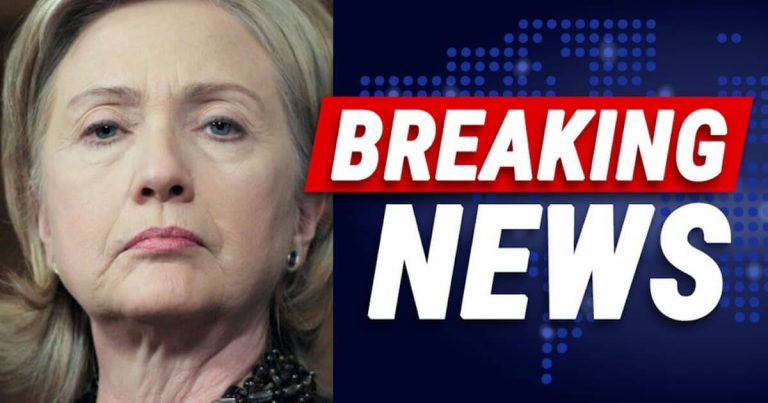 It's all out there – and Hillary should be sweating now.
When you read the series of tweets below, you might not believe the FBI knew all this about Hillary's email. Why?
Because clearly, this would have been the end of the  2016 Election. Perhaps Hillary—and many others—would have been behind bars.
Based on this new evidence, it must have been swept under the rug—with Comey (and maybe Obama) involved.
But now that we have a real AG in charge, where are the prosecutions? Take a look at this evidence they found. Hopefully, Barr will be dropping some charges soon.
The FBI posted it for all to see—but the mainstream media won't make a peep about it.
And each one gets worse and worse…
From Twitter: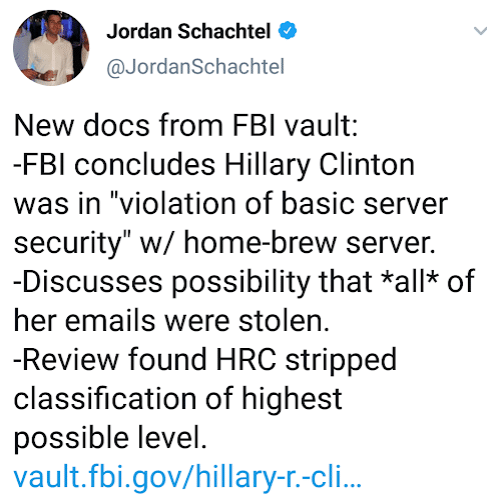 New docs from FBI vault:

-FBI concludes Hillary Clinton was in "violation of basic server security" w/ home-brew server.

-Discusses possibility that *all* of her emails were stolen.

-Review found HRC stripped classification of highest possible level.
Here are the docs zoomed in: this is pretty tough to believe:

And this:

And then it gets even crazier: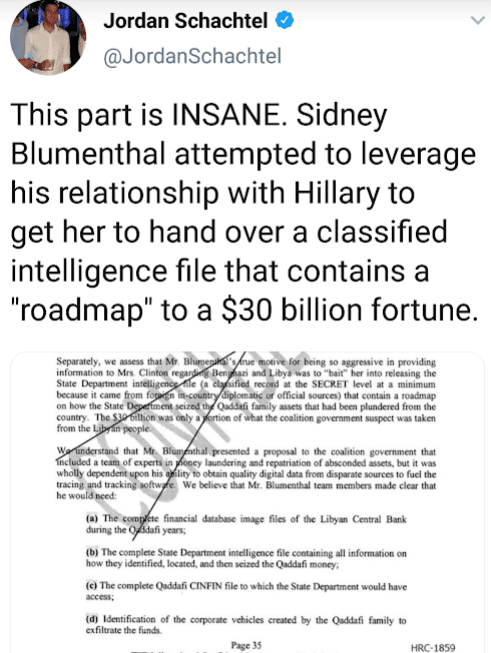 This part is INSANE. Sidney Blumenthal attempted to leverage his relationship with Hillary to get her to hand over a classified intelligence file that contains a "roadmap" to a $30 billion fortune.
And then the icing on the cake: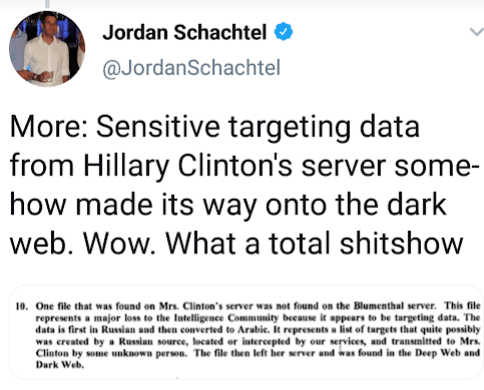 More: Sensitive targeting data from Hillary Clinton's server somehow made its way onto the dark web. Wow. What a total sh**show
Here's what it says up close:

Are you kidding me? And we're just finding out?
Okay… let's try to cover just the tip of the iceberg. Apparently, ALL of Hillary's emails were stolen. All. of. them.
That include countless documents that were classified—including ones about $30 billion treasure troves.
How do I know there were classified emails?
The FBI found a spreadsheet with all of them!
On top of that, the data from her server made its way onto the dark web. You know, that place where spies, criminals, and terrorists go to go illegally business online!
This really takes the cake, y'all. Clinton knew the risks of using a home-brew email server. In fact, it was against the law to transmit government emails on a non-government server.
She did it anyway and countless U.S. secrets and sensitive data may have ended up in the hands of foreign government, based on this evidence.
And Democrats still accuse Trump of helping Russia? Why aren't they looking at Hillary?
SHARE if you think it's time Trump locked Hillary up!
Source: The Right Scoop