CMT Just Made a Big Woke Mistake – They've Erased a Country Star And Now He's Fighting Back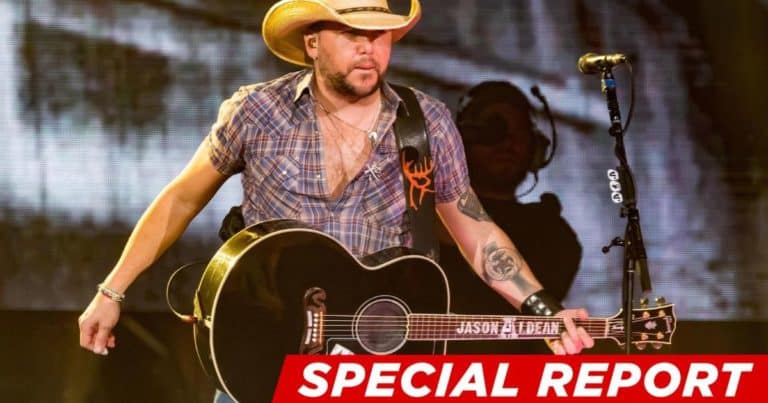 What's Happening:
Anyone who is a fan of old-school country music has been saying for years that the industry has been drifting far from its roots.
And now, CMT, which once heralded all things country music, has become a politically motivated corporation which bows to woke culture instead of upholding American values.
Just like the leftists they rub elbows with, CMT officials are eating their own. The latest casualty from CMT is one of the hottest country music headliners in recent years. He wrote a song and made a video standing up for the American people and CMT is trying to knock him down.
There's a name for this: it's called getting politically canceled.
From Breitbart:
CMT has pulled the recently released music video for Jason Aldean's new single 'Try That In a Small Town,' which aggressively attacks recent riots and rising lawlessness in the United States.
Lyrics and images within the video depict factual news events from leftist-leaning cities that include flag burning, protesters, and loonies attacking police officers. Aldean calls out these anti-American acts and makes it clear that people should keep that nonsense away from small towns.
That's all. It's a fair statement to make, isn't it?
Well, despite the cancellation, the video has exploded to more than a million views on YouTube. Aldean definitely struck a chord with patriotic Americans by calling out the crime and lawlessness that leftists want to spread across the country.
I guess the vid was apparently too much heat for the liberals now infesting CMT. The now woke center of country music removed Aldean's video from circulation on Tuesday, but at least the video was still playing on YouTube at this writing, with views growing daily and thousands of positive comments posted.
The song was initially released in May, and it contains real news footage. So why are news outlets and CMT attacking Aldean months later?
The answer is that the song continues to grow in popularity and leftists and their shills, like CMT, can't stand any uncontrolled promotion of American values.
The good news is that Aldean fought back against media criticism that he was pushing a racial agenda in the video.
From Breitbart:
"These references are not only meritless, but dangerous," he said. "NO ONE, including me, wants to continue to see senseless headlines or families ripped apart."
Aldean was candid about why he delivered this song when many in America are being attacked for their values.
From Breitbart:
"… 'Try That In A Small Town,' for me, refers to the feeling of a community that I had growing up, where we took care of our neighbors, regardless of differences of background or belief," he said.
This song is one that is meant to rally Americans and fight back against crime, anger, and hate that leftists like to sow in the streets across the country. CMT made a cancel culture mistake by pulling this song from circulation and they can expect significant backlash from the down-home people paying their bills.
It's a guarantee that CMT won't hold any public square meetings in small towns trying to explain their actions that undermine American values.
Key Takeaways:
Headline country music star has popular video canceled.
CMT pulls Jason Aldean video after leftist media complains.
Aldean speaks out against cancel culture hitting Americans.
Source: Breitbart