CNN Turns On Impeachment Nadler – Forces Him To Explain Video During Clinton Impeachment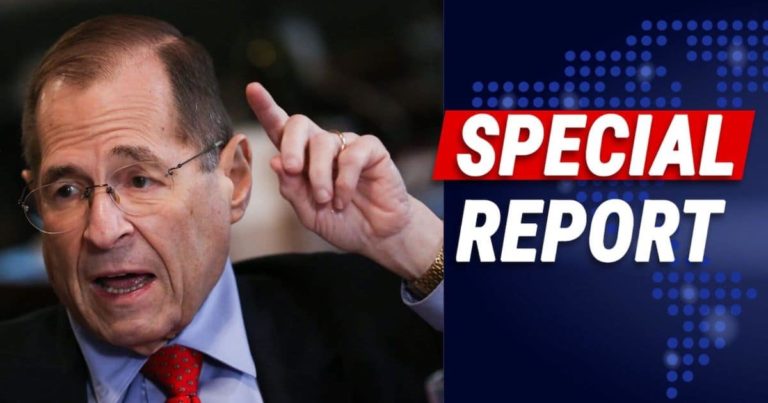 Jerry never thought they would dare – they left him speechless!
According to most polls, Americans are getting tired of impeachment. Ask anyone you know (who's not a far-left Democrat) and they'll tell you the same.
On top of that, support for President Trump is rising. At the same time, impeachment-loving Democrats are quickly losing support. That includes many independent voters, people they cannot lose.
But what's really remarkable is that, during a recent interview, a CNN reporter actually tried to hold Nadler accountable.
Shocking, I know, but miracles can happen!
She confronted him with stunning comments he made over twenty years ago about impeachment.
This is how he responded.
From YouTube:
Wow. Talk about an expert dodge! Nadler really had no answer to CNN forcing him to watch his own words and demanded answers on live TV.
Did Nadler even answer the question? Nope! He instead proceeded to sling mud at the president, accusing him of things he cannot even prove.
Let's go over what Nadler said back in the 90s. Nadler attacked Republicans who were trying to impeach President Clinton.
He said that you can only impeach a president when both parties support it. A largely partisan impeachment, he suggested, violates our Constitution and can undermine our democracy.
The CNN reporter than reminded Nadler that his party's current impeachment push is only backed by Democrats. Not a single House Republican is on board with it.
She challenged him to give an answer to that. Obviously, he's doing something he condemned all those years ago.
Has our Constitution changed? Are we in another country? Nope.
But Nadler refused to answer her very reasonable and honest question. Instead, he spewed the same tired attacks against our president the left has done for years.
Notice, he didn't once mention anything that was impeachable. He instead complained about Trump, accusing him of essentially being a big meanie.
The Democrats want to impeach the president simply because they don't like him. Simply because he's making good on his promises.
Nadler is apparently offended by how Trump criticizes his enemies. Big deal. At least Trump has the courage to stand up to tyrants like China and Iran to help the U.S.
What is Nadler doing to help the American people? Oh, nothing. He's pushing an impeachment nobody wants.
I bet he'll be totally surprised when his plan fails—when Republicans sweep in 2020.
SHARE if you're voting for a Trump 2020 landslide!
Source: YouTube