After CNN Grills Kelsey Grammer On Trump – The 'Cheers' Star Silences Them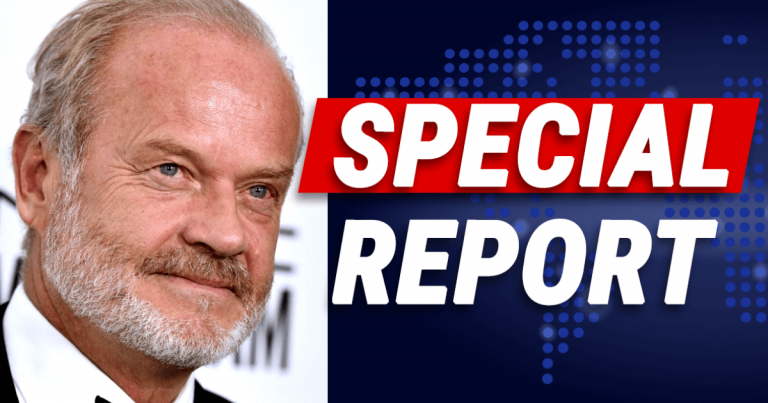 CNN never saw Frasier coming!
Kelsey Grammer is a legendary actor. I'm sure there are more than a few of you out there that fondly remember his role as Frasier, both on Cheers and his own show.
Today, he still knocks it out of the park as a stellar performer.
You might be pleasantly surprised to know he's one of the few Hollywood conservatives—and he even voted for Trump.
And in a recent interview, he stunned a CNN reporter, not just with his support, but with his boldness.
This made my day!
From The Federalist Papers:
"Well I think fabric being disrupted is a good thing… I don't think Washington didn't do us any favors for the last 50, 60 years, I think they've all been sort of the same party, the same bunch of clowns, the same bunch of really unpleasant people."

"And the American people will be just fine, too. We've been through a lot worse."
Wow. Frasier dropping the TRUTH all over this interview!
When CNN's Christiane Amanpour asked about his support of Trump, Grammar did not shy away.
He called out the corruption in our government, exposing the decades of abuse by the D.C. swamp.
Grammer wasn't afraid to label both Republicans and Democrats as "the same bunch of clowns." He even referred to the obvious "uni-party," the reality that both sides are both the establishment serving the globalist agenda, not America.
It takes a lot of guts from anyone from Hollywood to stand up for what they believe. The industry is full of liberals who tears down anyone that dares disagree with them.
But Kelsey Grammer is a beloved actor who has admirers around the world. He's not going to back away from his point-of-view about America, even if it's unpopular.
I know where his view is popular, in the hearts and minds of millions of patriots across the country.
They agree with Grammer, which is why they put Donald Trump into the White House.
SHARE if you agree with Kelsey Grammer and love America.
Source: The Federalist Papers