CNN's Lemon Wants To "Fix" Mount Rushmore – We Just Need To Add One More Face, President Barack Obama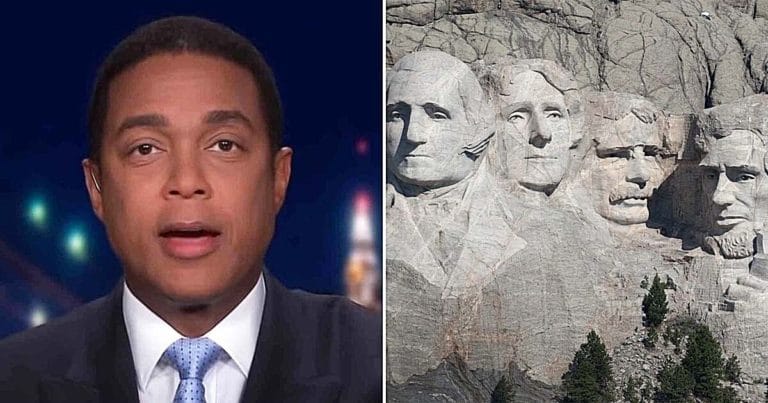 What's Happening:
The anti-police protests, orchestrated by Black Lives Matter, morphed into a movement to destroy American statues and monuments. Democrats have caved to vandals as they defaced and tore down historical landmarks.
The battle even boiled over to one important monument: Mount Rushmore. The landmark honors four iconic fathers of the United States.
But radical activists want it gone. CNN's Don Lemon claims he has a "fix" for the monument. We just need to add President Obama:
On Tuesday night, Don Lemon floated a strange idea for solving America's racial disparities: putting former President Barack Obama's face on Mount Rushmore.

Responding to President Trump's speech at the famed monument, Lemon said that the racist and divisive history of the country should translate into the first black president being placed on Mount Rushmore.
Our Take:
The movement to destroy American monuments began with Confederate leaders. Black Lives Matter and other Democrats claimed these statues were honoring slave owners. President Trump was against it, saying where would it end?
His words were proven prophetic, as in recent days, vandals have gone after the statues of other Civil War heroes, presidents, and even abolitionists. Democrats have even targeted statues of Abraham Lincoln, the man responsible for ending slavery.
It should come as no surprise that leftists would target Mount Rushmore. The massive landmark is a symbol of our national identity, the very thing critics say leftists want erased.
Lemon thinks that adding our first not-fully-white president would appease Marxists who have promised to dismantle our entire system.
It seems adding Obama would not be enough to please radicals who want an end to capitalism, democracy, and personal liberty.
Yet Lemon, along with CNN and liberal outlets, seems to have underestimated or dismissed the danger radical activists pose to America's way of life. He seems to think that BLM and other groups will go away if we do what they say. Americans think otherwise.
Do you think Mount Rushmore should be changed to please the far-left?
Key Takeaways:
Radical protesters have called for the destruction of Mount Rushmore.
CNN's Don Lemon has suggested adding Obama to the historical monument.
He claims this will appease radicals who have been burning cities and destroying history.
Source: Daily Wire