Blue State Mayors Spark Democrat Civil War – They Turn Against Colorado Governor After He Sends Them Migrants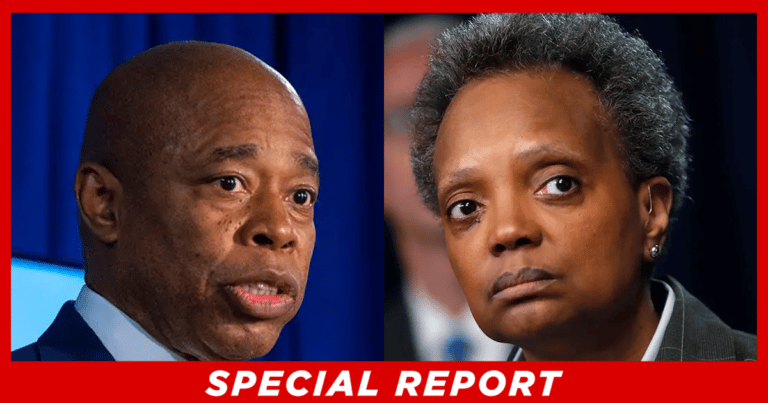 What's Happening:
Last week, Joe Biden made a big deal about going to the Southern border. But, as expected, the photo-op did not result in greater action to protect America. Millions of illegals keep pouring into the country, as Biden's administration ships them to all corners of the country.
This crisis has compelled governors to send these aliens to big blue cities. Even the Democrat governor of Colorado had enough, busing migrants to New York and other places. Obviously, the liberals who run these cities can't take on more mouths to feed. But, are they demanding that the border be secured? Nope. Instead, they are whining to the Colorado governor!
From The Post Millennial:
Mayors Eric Adams of New York City and Lori Lightfoot of Chicago teamed up in sending a "cease and desist" letter to Colorado's governor and fellow Democrat Jared Polis, demanding he stop busing migrants to their cities.

"Although we share the concerns of accommodating the flood of asylum seekers, overburdening other cities is not the solution. We respectfully demand that you cease and desist sending migrants to New York City and Chicago," the letter reads, as reported by the Washington Examiner.
Lol, oh this is rich. These liberal mayors are demanding Gov. Polis stop sending illegal immigrants to their cities. But… I thought Democrats loved welcoming outsiders into the country? Why are Lightfoot and Adams suddenly so upset that these freeloaders are storming their blue cities?
Maybe it's because New York and Chicago are already deep blue. They don't need more illegals to flip elections–I mean, to love and care for! They'd rather send illegals to Colorado, a state that is not blue enough.
Or to any number of swing communities they can flip.
If Democrats really cared about our country–and these aliens–they'd petition Biden to actually enforce our border laws. They would demand ICE and DHS to deport criminal aliens. They'd stop rolling out the red carpet for outsiders, at a time when we are struggling to help Americans.
But they aren't doing any of that. So, their demands fall on deaf ears. Democrats created this border crisis and they are not doing what it takes to end it. Hopefully, Polis will tear up this letter and keep sending aliens to these cities.
Until Democrats wake up and start securing the border.
Key Takeaways:
Democrat mayors demanded Colorado Gov. Polis to stop sending illegals to their cities.
The Democrat governor started doing this, as the illegal population exploded in his state.
These liberal mayors refused to demand actual steps to end the crisis, like deporting aliens and securing the border.
Source: The Post Millennial