Congress Files Charges Against Nancy Pelosi – She May Have Broken Federal Law With Her Speech Rip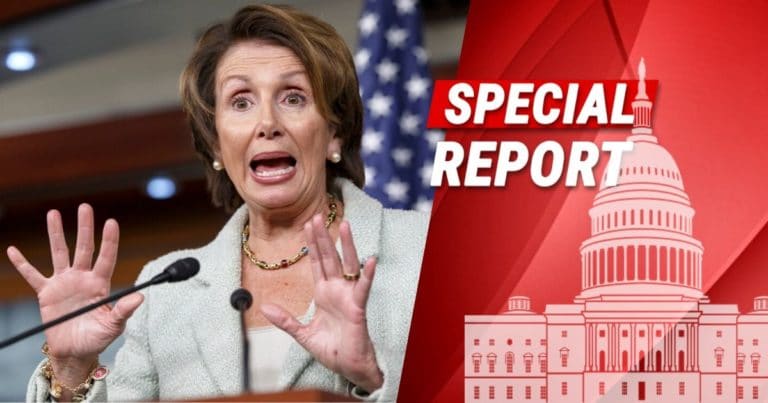 It looks like Nancy Pelosi made a big mistake at the State of the Union—bigger than she could have expected.
I'm sure you were shocked—like so many other Americans—to see the Speaker rip up President Trump's speech before the entire country.
She claimed she did it because the speech lacked "one page" of truth. I'm sure she went back to her party to brag about her "statement."
But not many Americans are cheering.
In fact, she may have broken the law. And some members of Congress want to hold her accountable.
From Daily Caller:
Republican Florida Rep. Matt Gaetz plans to file ethics charges against House Speaker Nancy Pelosi Thursday.

Gaetz says Pelosi may have even broken the law by tearing up a copy of President Donald Trump's State of the Union speech Tuesday.
UPDATE: Charges have been filed, and Gaetz showed them off on Twitter: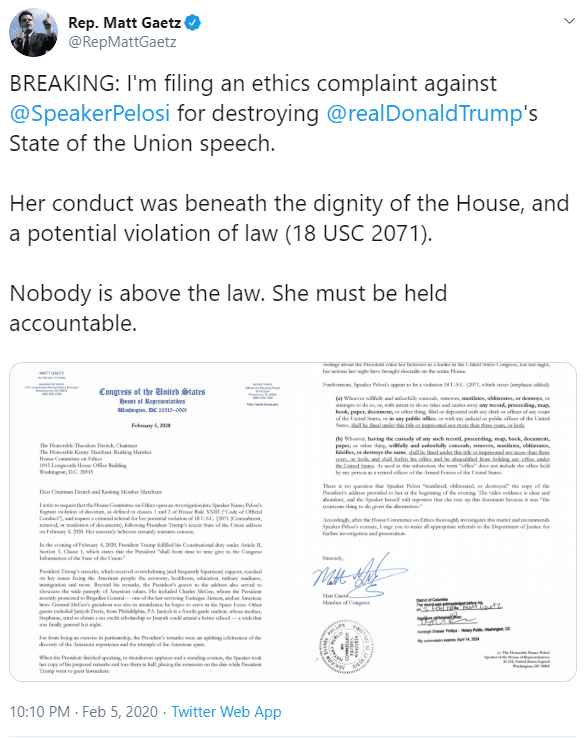 Republican Rep. Matt Gaetz called out Pelosi and is filing ethics charges against her for tearing up the speech.
Gaetz also suggested Pelosi broke the law because she destroyed official government documents.
He said the law does not allow the Speaker to destroy House records. He accused her of having a "little temper tantrum," because she did not like what Trump had to say.
Remember, before the State of the Union became a speech in Congress, it was a report delivered by the President to the Speaker of the House.
An ethics complaint could lead to an investigation and other consequences. Other congressmen suggested she should be censured over her actions.
Still others are calling for her resignation. And Republicans would love to win a majority in 2020 and take the gavel back.
It's hard to dismiss what she did. Immediately following Trump's speech, a leading lawmaker tore up his very words, as if they were nothing.
But what did the president say?
The president celebrated the nation's successes. He honored American heroes and even awarded a young girl a scholarship.
These are the words he said that Pelosi tore up. What does that tell you about old Nance? Is that what she really thinks about our country?
The Democrats have worked very hard over the last three years to oppose the president. Yet everything he's done has had a tremendous impact on the country.
Are they opposing him or us?
Perhaps Congress should come together with Gaetz and put Pelosi in her place.
SHARE if you want Nancy Pelosi condemned for what she did to Trump's speech!
Source: Daily Caller, Twitter