Congress Slaps Down Ilhan Omar – Drops Bipartisan Hammer On Her In Major Vote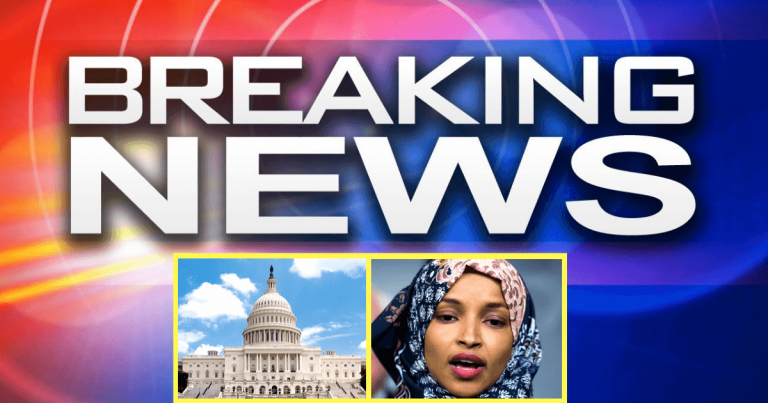 Maybe the best thing I've seen all week – bye Omar!
Aw, poor Ilhan Omar. She is certainly having a terrible, horrible, no good, very bad week.
But it's entirely her fault, so I'm not too broken up about it. The Democrat is under investigation. She is polling very poorly. Whistleblowers are demanding an ethics probe.
Do you believe, that during all this, Omar actually put forward a bill to encourage a boycott against Israel?
Listen, honey, there's no better way to prove you're against Israel than by pushing to boycott the only Jewish state on the planet!
The good news? The vast majority of House representatives—including Democrats—just shot her agenda down.
From Fox News:
The House of Representatives overwhelmingly approved a bipartisan resolution… opposing an international effort to boycott Israel as Democrats try to tamp down increasingly heated political rhetoric over differences with the longtime U.S. ally.

The resolution passed on a vote of 398-17. Reps. Ilhan Omar, D-Minn., Rashida Tlaib, D-Mich., and Alexandria Ocasio-Cortez, D-N.Y., were among the 16 Democrats who voted against the resolution…
Wow! It's the first time in a long time we've seen such overwhelming bipartisanship in the House.
By a vote of 398-17, the House passed a resolution condemning a movement known as BDS. This movement is aimed at boycotting Israel, in an effort to cripple the nation economically.
The movement has gained support in Europe and around the globe. Ilhan Omar's bill would have removed penalties on any American company that joined in this vile movement.
Omar has a long history of slandering the Jewish people and Israel. Earlier in the year, she was called out for her comments apparently crossed the line.
But Democrats were too cowardly to openly reprimand her.
At least, when it counted, they were bold enough to reject this freshman Democrat's terrible agenda.
This resolution closes the door for any congressman—or woman—to push an agenda against our closest ally in the Middle East.
It means Omar's bill to encourage boycotts against Israel is dead in the water. Despite their many sins, few lawmakers on the left will back Omar's crusade against the Middle Eastern nation.
SHARE if you support Israel, not Omar!
Source: Fox News