Democrat Congresswoman Turns On Biden – Jayapal Just Demanded A "Full Investigation By All Relevant Authorities"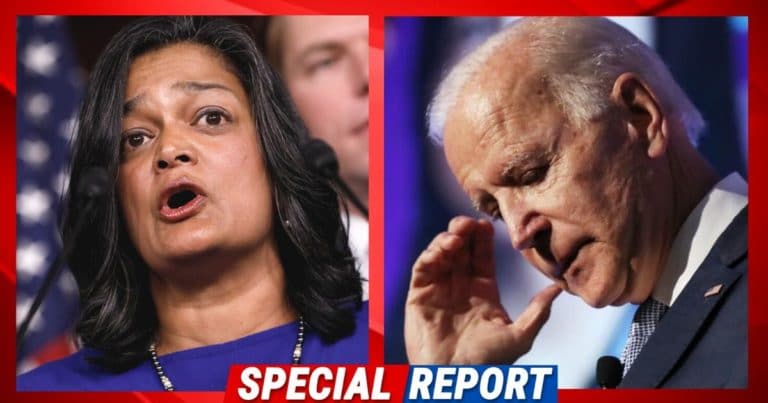 Joe Biden has yet to leap over the Tara Reade accusations. It appears most Democrats' strategy has been to ignore the story, despite their promise to "believe all women."
The left is trying to forge ahead, hoping these allegations just go away. But many Americans will not drop this story.
And it appears at least one liberal congresswoman is calling out the former VP.
From YouTube:
Democratic Congresswoman Pramila Jayapal called "for a full investigation…by all relevant authorities" of the Tara Reade sexual assault allegation, when she appeared on the It's All Political podcast on 5/12/2020.
Democrat Pramila Jayapal of Washington is calling for a "full investigation" into Tara Reade's allegations.
She even called on "all relevant authorities," which might suggest (among other groups), the DOJ, the Senate, and the House.
Since Reade's story hit the news, we've yet to see a formal investigation. Remember, when a woman accused Supreme Court nominee Brett Kavanaugh of assault, the Senate launched a full inquiry.
Yet here we have a presidential candidate of a major party… and crickets.
Where are all the liberal feminist supporters of women? Why aren't they demanding solid evidence from this case?
Joe Biden thinks he dodged the situation, by refusing to let anyone see his Senate records. Democrats appear to be closing in around him, expecting us to just forget it.
At least Jayapal is demanding an investigation. But let's wait and see. Will she actually propose an investigation in the House?
Will she call on the DOJ or the Senate to conduct their own reviews? Or will she back down, like the rest of the left?
SHARE if you want a full investigation into the allegations against Biden.
Source: YouTube