After Federal Court Blocks Democrat 'Crusade' – Trump Thanks Them For Saving 'The Soul Of America,' Protecting Constitutional Right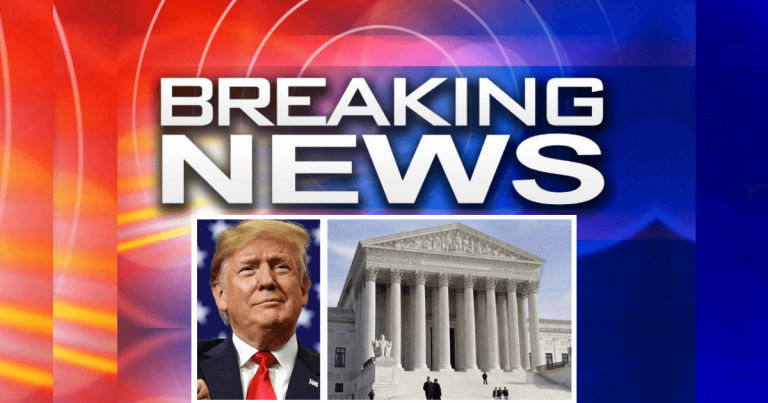 Democrats went after our most sacred right – but they never saw this court coming!
We've known for a long time that many on the left are going after our Constitutional freedom of religion.
Some Democrats run entire organizations bent on erasing faith and God from our history and culture.
In fact, some atheists in Pennsylvania wanted to "pray" during a House meeting. It was a stunt to get the government to admit you don't have to believe in God to pray.
It would have created a policy that put atheism on an equal level as faith in God.
But a federal court just put an end to their nonsense.
From Daily Wire:
Last Friday, the Third U.S. Circuit Court of Appeals ruled against a group of atheists who sued the Speaker of the Pennsylvania House in federal court, claiming the Pennsylvania House violated the Establishment Clause by barring a non-religious person from offering prayer.
These atheists wanted to mock God-believing people by praying to "human wisdom and the power of science." Sorry, but that's not protected under our Constitution.
It's called freedom of religion—not freedom from religion.
We use science to learn about the world. We pray to God for strength guidance for the things we cannot understand.
The court made it very clear that the government is not obligated to support the "free exercise" of a non-religion.
President Trump learned of this ruling and weighed in with a powerful quote from Lou Dobbs' show.
From Twitter: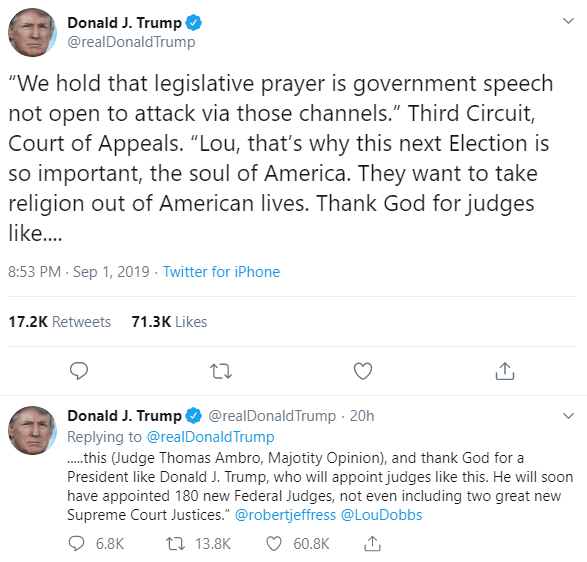 "We hold that legislative prayer is government speech not open to attack via those channels." Third Circuit, Court of Appeals. "Lou, that's why this next Election is so important, the soul of America. They want to take religion out of American lives. Thank God for judges like….
….this (Judge Thomas Ambro, Majotity Opinion), and thank God for a President like Donald J. Trump, who will appoint judges like this. He will soon have appointed 180 new Federal Judges, not even including two great new Supreme Court Justices."
President Trump is on the money! The next election will determine the direction our country goes.
Will we support left-wing candidates that want to take religion out of our lives? Candidates that will give atheism and immorality a higher place than our faith?
Or do we want to continue to support a president who believes in God and appoints Constitutionally-minded judges that will protect our freedoms?
The choice is pretty clear to me.
SHARE to thank Trump and the courts for protecting America's soul –  freedom of religion!
Source: Daily Wire, Twitter